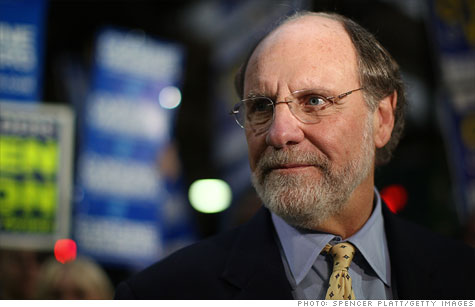 Former New Jersey governor and MF Global CEO Jon Corzine.
NEW YORK (CNNMoney) -- More than $1.2 billion in customer funds may be missing from bankrupt brokerage MF Global, nearly twice previous estimates, the trustee administering the firm's bankruptcy said Monday.
MF Global (MFGLQ) was forced to file for bankruptcy last month after it disclosed $6.3 billion in exposure to troubled sovereign debt from weak European countries, sparking panic among investors. (MF Global: Sorting through the debacle.)
Government regulators later said that roughly $633 million out of the $5.4 billion in customer funds at the firm were unaccounted for.
On Monday, however, that figure was revised significantly higher.
"[T]he apparent shortfall in what MF Global management should have segregated at U.S. depositories may be as much as $1.2 billion or more," the office of trustee James Giddens said in a statement.
Kent Jarrell, a spokesman for Giddens, noted that Monday's figure represented the trustee's first public estimate of the shortfall.
"We have struggled for three weeks to try and get to the bottom of this. At this point, we felt it was time to give a preliminary number," Jarrell said. "We are continuing the investigation to find out where that money is and if it is recoverable."

A spokeswoman for MF Global referred questions to the trustee.
The FBI and federal prosecutors are now investigating the firm, which was headed by former New Jersey governor Jon Corzine until his resignation earlier this month. Analysts believe MF Global may have improperly mixed customer funds with its own, though no one at the firm has been accused of wrongdoing at this point.
Giddens' office said he had recovered roughly $3.7 billion in customer funds so far, leaving approximately $1.7 billion outstanding. At present, Giddens' plan to return 60% of customer assets by early December will require "nearly all of the assets currently under his control," the statement said.
Funds located abroad for customers who traded in foreign futures are now under the control of foreign bankruptcy trustees, the trustee added, which will likely drag out the recovery process.