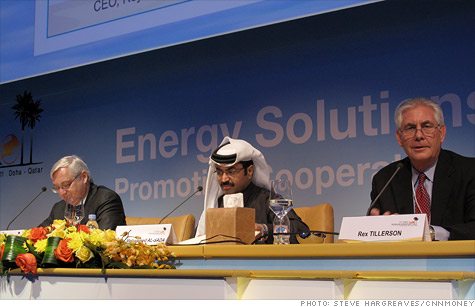 Exxon Mobil CEO Rex Tillerson, seated right at a World Petroleum Congress session Tuesday, declined to answer questions about the company's deal with Iraq's Kurdish region.
NEW YORK (CNNMoney) -- Exxon Mobil Chief Executive Rex Tillerson refused Tuesday to answer questions about a controversial deal the oil company has signed with the Kurdish government in northern Iraq.
Tillerson was asked by an audience member at a World Petroleum Congress panel in Qatar if he thought the contracts the company has signed with the regional government would hold up under Iraqi law.
"I'm not in a position to comment on that," he answered to mumblings and scattered applause among an audience containing a mix of oil industry representatives from Western firms and state-run enterprises, many from the Middle East.
At a press conference after the panel, Tillerson was again asked about the ramifications of the Kurdish contracts, and again declined to answer.
Exxon, (XOM, Fortune 500) which holds big contracts with the Iraqi government to develop oil fields in the southern part of the country, was sharply criticized by Iraqi government ministers last month over the deal. The Iraqis suggested Exxon might be sanctioned over the move, possibly putting their deals in the southern part of the country in jeopardy.
Iraqis in Baghdad are loathe to see oil companies sign separate deals with the semi-autonomous government in the Kurdish north, preferring instead that all deals go though the central government.
But the Iraqi central government has yet to finalize an oil law establishing how the oil royalties will get divvied up, and the Kurds are known to be offering terms that are more generous to foreign oil firms.
A handful of smaller oil companies have signed deals with the Kurds, but so far most major firms have stayed away.
Last month, the U.S. State Department said it warned Exxon that any deals it signs with the Kurdish government may be annulled by Baghdad.
Iraq, already the world's 12th-largest oil producer, is thought to hold vast amounts of undiscovered oil. Given proper development and time, some say the country could eventually rival Saudi Arabia in terms of oil output.
But ramping up Iraq's oil production has been hobbled by ongoing violence, a lack of a clear oil law, and investment terms that are quite unfavorable to foreign firms, with effective tax and royalty rates in excess of 90%.