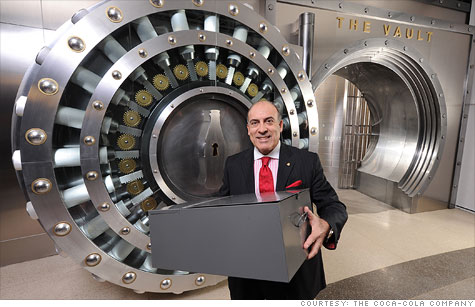 After 125 years, Coca-Cola Company's secret formula will be housed in a vault the public can see.
NEW YORK (CNNMoney) -- Coca-Cola's secret formula is out... but it's still a secret.
After 125 years of safeguarding its famous formula in an Atlanta bank, the Coca-Cola Co. has moved the safety deposit box containing the formula to a vault the public can see. However, what's inside the vault will remain under wraps.
In honor of the company's 125th anniversary, the formula was moved to a new home in the World of Coca-Cola (KO, Fortune 500) in Atlanta where a new exhibit titled The Vault of the Secret Formula will be on display beginning Thursday.
The permanent exhibit will feature the vault where the formula is housed as well as an interactive, multimedia attraction that illustrates the history, myths, legends and intrigue of the secret formula.
"The move of the Coca-Cola secret formula is a historic moment for the Company," Phil Mooney, Coca-Cola's director of archives said in a release announcing the exhibit. "The Company has always gone to great lengths to protect it and now by safeguarding it at the World of Coca-Cola, we can share its legendary legacy with people around the world."
Prior to the move, the formula was housed in a vault at SunTrust Bank in downtown Atlanta since 1925.
Coca-Cola was invented in 1886 by Dr. John S. Pemberton. The formula for the fizzy beverage was kept a very close secret, and was not even written down until 1919 when the company was sold and documentation of the formula was needed as collateral for a loan.
"By sharing this secret formula experience with our consumers, we celebrate both the rich history of the brand's beginnings and the moments of refreshment and happiness to come for future generations," Coca-Cola Company Chairman and CEO Muhtar Kent said in the release. "This is yet another way we are recognizing and thanking everyone around the world who has made the Coca-Cola brand what it is today."
The Coca-Cola Company is the world's largest beverage company with more than 500 brands and an annual revenue of $35 billion last year.
Correction: An earlier story misstated Coca-Cola's annual revenue.