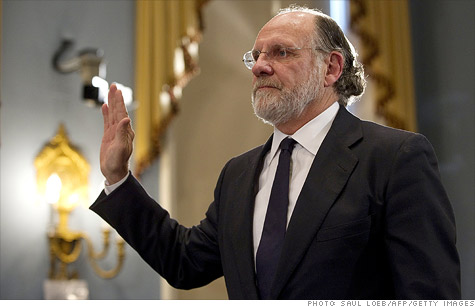 Jon Corzine testified before the House Agriculture Committee on Thursday.
NEW YORK (CNNMoney) -- Jon Corzine, the former chief executive officer of the bankrupt broker MF Global, apologized for his firm's failure Thursday and told a House committee that he doesn't know where its missing customer money went.
"I simply do not know where the money is, or why the accounts have not been reconciled to date," Corzine said, in prepared testimony to the House Agriculture Committee on Thursday. (MF Global: Sorting through the debacle.)
He also apologized "to all those affected."
"Recognizing the enormous impact on many peoples' lives resulting from the events surrounding the MF Global bankruptcy, I appear at today's hearing with great sadness," he said.
"My sadness, of course, pales in comparison to the losses and hardships that customers, employees and investors suffered as a result of MF Global's bankruptcy."
The lengthy testimony is the first public response from Corzine since MF Global's failure in October, and was followed by a grilling from lawmakers.
Corzine denied wrongdoing and noted in his remarks that many people in his situation would invoke their constitutional right to remain silent, a guarantee under the Fifth Amendment.
"[A]s a former United States Senator who recognizes the importance of congressional oversight, and recognizing my position as former chief executive officer in these terrible circumstances, I believe it is appropriate that I attempt to respond to your inquiries," he said.
The case -- the eighth-largest bankruptcy in U.S. history -- has shaken faith in the markets and put business on hold for many owners of the roughly 38,000 securities and commodities trading accounts at the firm, from big-city traders to heartland farmers.
Corzine, a Democrat who served as a U.S. senator and governor of New Jersey, was called to Capitol Hill to participate in the Agriculture Committee's investigation of the firm, which went bankrupt after disclosing bets on risky European debt that sparked a panic among investors.
In his prepared remarks, he did not mention a specific value for the shortfall in customer funds. But since the bankruptcy filing, investigators have been trying to find $1.2 billion that should have been in MF Global customer accounts, according to the trustee overseeing the brokerage firm's liquidation.
The Federal Bureau of Investigation and other federal authorities are probing the company, which is also being investigated by the House Financial Services Committee and the Senate Agriculture Committee.
Among other things In his lengthy opening remarks, which ran over 20 typed pages including footnotes, Corzine discussed:
- Leverage at MF Global: "One of the recurrent themes in the media has been that MF Global took on too much risk during my tenure," Corzine said.
He claimed that its leverage ratio had dropped from 37-to-1 prior to his arrival to around 30-to-1 for most of his tenure. Under questioning, he later admitted that this ratio was "a lot higher than I would have wanted to have on a sustained basis."
- Investments in European debt: Corzine, also a former Goldman Sachs (GS, Fortune 500) CEO, said he had been an advocate of purchasing the debt that ultimately doomed the firm. "At the time that MF Global entered into the transactions, I believed that its investments in short-term European debt securities were prudent," he said.
Corzine noted that all the European debt securities on MF Global's books matured before 2013, and that the firm had not lost any money on the transactions themselves. Rather, it was done in by margin calls, as well as customers and trading partners taking their business elsewhere following the disclosure of its risky bets.
- The missing money: Corzine said he was "stunned" on Oct. 30 when he was told "that MF Global could not account for many hundreds of millions of dollars of client money." He said he was not involved in the mechanics of the firm's trades and was unsure of what might have happened.
"I want to emphasize that, since my resignation from MF Global on November 3, 2011, I have not had access to the information that I would need to understand what happened," he said.
"It is extremely difficult for me to reconstruct the events that occurred during the chaotic days and the last hours leading up to the bankruptcy filing."
Corzine appeared along with a handful of other witnesses including Jill Sommers of the Commodity Futures Trading Commission and Stephen Luparello of the Financial Industry Regulatory Authority.
Another witness -- Terrence Duffy, the head of exchange operator CME Group -- told the committee that MF Global had transferred customer money into its own accounts, a severe violation of industry rules. Corzine said he had never ordered such a transfer, continually ducking direct responsibility for the shortfall.
Corzine failed to broker a last-ditch deal to sell the company to Interactive Brokers (IBKR) after exposure of the shortfall in customer funds. MF Global filed for Chapter 11 bankruptcy protection on Oct. 31.
Both the House and Senate agriculture committees as well as a subcommittee of House Financial Services have voted to subpoena him. The Senate Agriculture and House Financial Services hearings are scheduled for next week.
Corzine tried to get the hearings postponed to January to allow himself more time to prepare, but his requests were denied. His grilling Thursday represented a stunning turnabout for a man who once sat on the opposite side of such hearings on Capitol Hill.
"Mr. Corzine -- or Governor, or Senator -- I don't know what to call you exactly," Rep. Collin Peterson said as he opened his questioning.
"A lot of people have bad names," Corzine responded.