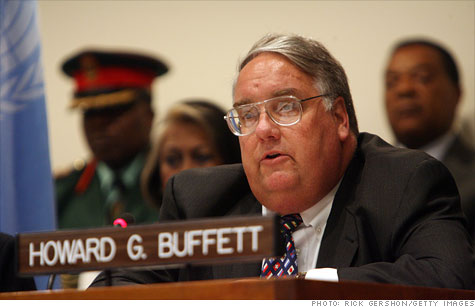 Warren Buffett's son Howard serves on the board at Berkshire Hathaway but also works as a farmer and manages his own foundation.
NEW YORK (CNNMoney) -- Warren Buffett has long said he hopes his son Howard will follow him as chairman of Berkshire Hathaway, and you'll hear that again on 60 Minutes Sunday. The question of his successor as CEO, however, is another matter.
The plan, Buffett told CNNMoney on Friday, is for Howard to become "non-executive chairman" upon his father's death. This would be an unpaid position in which Howard would serve as "a custodian of the values" of Berkshire Hathaway, the elder Buffett said, and would not be involved in strategy or day-to-day decisions.
"It doesn't mean having an office here" at Berkshire's Omaha headquarters, Buffett told CNNMoney.
Buffett's comments Friday came following a story on the CBS website ahead of the 60 Minutes broadcast that characterized the 56-year-old Howard as his "successor," though the Berkshire head said this wasn't quite accurate.
"It is certainly my hope that Howie succeeds me as Chairman, but the CEO job he has never had any interest in having," Warren Buffett said, adding: "When people think of my successor, they are thinking of who will be CEO. No [family] member has ever wanted to be or has been considered for that."
The idea for Howard's role is one Warren has been mulling for some time, and was discussed at Berkshire's (BRKA, Fortune 500) last annual meeting.
In the firm's 2010 annual report, Warren Buffett wrote that his family "will not be involved in managing the business" following his death, and that his own job would be divided between a CEO in charge of operations and one or more executives in charge of investments.
"Were we to need the management structure I have just described on an immediate basis, our directors know my recommendations for both posts," Buffett said in the report. "All candidates currently work for or are available to Berkshire and are people in whom I have total confidence."
As an added protection for the firm's "unusually strong and well-defined culture," however, Buffett suggested that a member of his family serve as the "non-paid, non-executive Chairman of the Board." This appointment, he said, would be subject to the approval of the board of directors.
Howard told 60 Minutes that he would not involve himself in the daily decision-making at Berkshire in his role as chairman, according to a story on the CBS website.
"Absolutely not and I shouldn't," Howard reportedly said, adding that he would accept the role under one condition: "As long as I can keep farming."
Howard is a farmer by trade, though it's not as if he lacks management experience. He serves on the Berkshire board and also runs a foundation that helps farmers in the developing world. He has also authored seven books on conservation, wildlife, and other subjects, according to his foundation's website.
Warren Buffett wrote in Fortune last year about the importance of fate in his family's vast wealth, joking that he and his children had won "the ovarian lottery."
"My wealth has come from a combination of living in America, some lucky genes, and compound interest," he wrote.