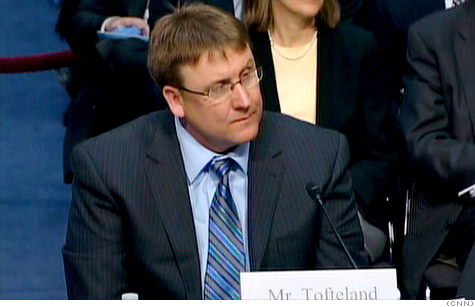 Minnesota farmer Dean Tofteland appears at a Senate Agriculture Committee hearing on MF Global Tuesday.
NEW YORK (CNNMoney) -- Former MF Global CEO Jon Corzine's claims about the firm's missing customer money were called into question Tuesday as the probe of the bankrupt brokerage continued on Capitol Hill.

Corzine returned to the hot seat Tuesday before the Senate Agriculture Committee, this time flanked by two former colleagues from the brokerage's parent company, MF Global Holdings: Chief operating officer Bradley Abelow and chief financial officer Henri Steenkamp. (MF Global: Sorting through the debacle.)
As he did last week in testimony before the House Agriculture Committee, Corzine said he did not know the whereabouts of the more than $1 billion in customer money missing from MF Global and had never ordered any transfers from customer accounts.
"I never authorized the misuse of customer funds," Corzine said, adding that he learned of the shortfall just one day before MF Global's bankruptcy filing on October 31.

Abelow and Steenkamp echoed Corzine in claiming ignorance about how the money went missing.
But Terrence Duffy, head of exchange operator CME Group (CME), said an MF Global employee told a CME staffer that Corzine had in fact been aware of the transfers from customer accounts.
"A CME auditor ... participated in a phone call with senior MF Global employees wherein one employee indicated that Mr. Corzine knew about the loans that had been made from the customer segregated accounts," Duffy told the committee.
Duffy said MF Global had transferred $175 million worth of customer money to a European affiliate, though he did not say when exactly Corzine allegedly learned of the transfer or whether he had personally authorized it. He accused the firm of "a violation of the rules" for customer accounts.
"If that allegation holds up and there's actually some proof behind it, it would be very difficult to square with Corzine's testimony," said Neil Barofsky, a senior fellow at the New York University School of Law.
A spokesman for Corzine declined to comment on Duffy's claims.
Corzine, a former Goldman Sachs (GS, Fortune 500) CEO and ex-senator from New Jersey, is also due to appear before the House Financial Services Committee on Thursday to discuss the MF Global (MFGLQ) collapse.
Hurting in the heartland: Also among the 10 witnesses on the schedule Tuesday were James Giddens, the trustee overseeing the brokerage's liquidation, and Dean Tofteland, a Minnesota farmer and former MF Global customer whose commodities account has been frozen since the firm's bankruptcy in late October.
For Tofteland, MF Global's failure has left him unable to access more than $200,000 of his own money. He has been forced to delay seed purchases, leaving next year's harvest uncertain.
The plight is a common one for farmers who rely on the commodities market to protect against volatility in crop prices, posting cash collateral in their accounts when they lock in contracts to deliver crops in the future at a set price.
"These funds were not an investment in MF Global. These funds were not a loan to MF Global," Tofteland told the Committee. "These funds were simply collateral required by the exchange as a guarantee for my promise to deliver the bushels I had priced."
Exchange operator CME Group has accused MF Global of unlawfully "commingling" customer money with its own ahead of its bankruptcy. Customer funds are supposed to be segregated from a firm's own assets.
Six weeks on, more than $1 billion in customer money remains missing, according to Giddens. The shortfall has drawn the attention of federal regulators and the FBI.
"The rules about keeping customer money segregated are pretty straightforward," Senate Agriculture Committee Chairwoman Debbie Stabenow said. "That it's been over a month, and teams of lawyers and forensic accountants still can't figure out what happened, raises very troubling questions."
Corzine's testimony in the House last week shed little light on the case for anxious customers, Tofteland said ahead of Tuesday's hearing. He was hoping for more information following Corzine's appearance before the Senate committee with his former lieutenants.
"Between him and those other two guys, they should have a pretty good idea of where the money went," Tofteland said. "Commingling or whatever they call it in their world -- back on Main Street, it's called stealing."
With his own testimony, Tofteland said he wasn't trying to pose as "an expert recommending a solution," and instead simply wanted the committee to know how the missing money has affected his business. Afterward, he and his 15-year-old daughter plan to spend an extra day in Washington.
"We're going to see the sights and take in the experience of a Senate committee hearing," he said. "I'm really glad that they're holding the hearings, because it means at least some of the people in Washington know who they work for and are trying to get some answers for us."