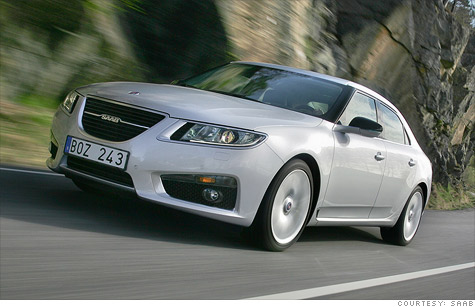 Swedish automaker Saab has filed for bankruptcy and will likely go out of business.
NEW YORK (CNNMoney) -- Swedish automaker Saab has filed for bankruptcy after months of struggle to stay alive. Saab's owners have turned the company's assets over to a Swedish court-appointed receiver.
General Motors (GM, Fortune 500), Saab's former owner, had objected to a recently proposed deal under which the company would have been sold to Chinese investors including carmaker Zhejiang Youngman Lotus Automobile.
The deal required GM's cooperation because it still supplies parts, designs and engineering for Saab products. China is one of GM's largest markets and the U.S. automaker was reportedly concerned that its technology could end up in competing vehicles.
GM still maintains an ownership stake in Saab.
The Board of Saab Automobile subsequently decided that without further funding the company will be insolvent, and that filing bankruptcy was in the best interests of its creditors.
There is a chance that Saab could be purchased, in whole or in parts, out of receivership, Saab spokesman Eric Geers said. Potential buyers would have to negotiate with the defense and aerospace company Saab Group, a separate company which still owns the rights to the Saab name and trademark, and with GM.
"Once an administrator or a receiver is appointed, it is up to them to see what they can do," he said.
GM had no immediate comment on Saab's decision.
GM sold Saab to Swedish Automotive in early 2010 as part of GM's bankruptcy reorganization. Swedish Automotive is a Dutch company that was then known as Spyker, a high-end brand of hand-made sports cars. But Saab continued to struggle under the new ownership.
Swedish Automotive said it does not expect to realize any value from its ownership of Saab.
Saab had announced a different tentative deal with two Chinese companies in June. But within weeks it said it had run out of the cash it needed to pay its workers.
Even after Saab arranged financing to resume paying salaries, it had problems making payments to suppliers, which essentially stopped it from resuming production. By early September it was forced to file for bankruptcy protection.
Saab still operates a network of U.S. dealers, but sales have been suffering as the company has struggled to survive. This year, U.S. sales dropped to 5,305 as of the end of November. As recently as 2000, it had sold 39,479 cars to U.S. buyers.
Saab was founded as airplane maker Svenska Aeroplan Aktiebolaget (Swedish Airplane Inc.) in 1937 and entered the car business in 1946. The defense company Saab Group is a separate company today and remains in business.
-- Senior Writer Chris Isidore contributed to this story.