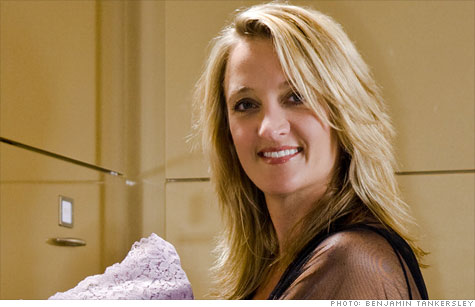 Angela Newnam shows off a pair of her Knock out! Smart panties, which are created with patented technology.
NEW YORK (CNNMoney) -- Angela Newnam is changing the textile industry one pair of panties at a time. The CEO of Knock out! Smart Panties was looking for a solution to keeping her underwear dry and odor-free after gym workouts, without the use of panty liners. That got her started on a journey to find the perfect panty.
Eventually, that would lead to the creation of her own line of women's underwear. Newnam discovered that there were plenty of undergarments that offered moisture-wicking. She also found others that had spray-on odor inhibitors applied to synthetic fabrics, which eventually washed out of the garment. However, none offered both as a permanent solution.
The daughter of a textile executive and holder of a Harvard MBA herself, Newnam started searching for a fabric to suit her vision. She discovered a patent that survived the liquidation of Dan River Mill, a textile company that had gone bankrupt. The patent was for "No-Trace," based on the same odor-technology used in Febreze. No-Trace bonds the fibers in cotton fabric with odor-absorbing glucose molecules, which form tiny pockets that trap odors. The odors are released only in the washing machine.
Once the garment is washed and dried, the pockets are ready to absorb again for the life of the fabric.
Newnam bought the patent in 2009 and all the leftover Dan River Mill's fabric she could find (on eBay) for use in research and development. Newnam combined No-Trace with wicking technology, which pulls moisture away from the body. As a result, she created a product that not only controls odors, but holds three-fourths of a teaspoon of moisture, enough to collect most embarrassing spots or leaks. Test marketing on women returned a favorable response and production began on Knock out! Smart Panties.
Newnam purposely keeps production in the United States. She made deals with several companies in South Carolina where the fabric is manufactured and the panties sewn. She then turned her attention to her biggest challenge: how to market the underwear without becoming too graphic or clinical.
Newnam's research revealed that 30% of women discuss leaking, spotting and odor control with their doctors, but found the subject embarrassing to refer to in public.
"My marketing team and I decided to tackle the topic in a way best described as 'sassy' and a bit retro," said Newnam.
The Knock out! website features graphics circa 1960 and discusses 'achoo-moments' and 'Mentioning Unmentionables.' Short blurbs steer away from anything clinical and instead refer to drips, leaks and other "gifts of nature."
First marketed exclusively online and at launch parties, Knock out! Smart Panties began shipping its line of eight different styles (priced from $24 to $38) to U.S. retailers in December 2010. Knock out! recently expanded its collection with a high-waisted lacy brief and is now offering plus sizes in select styles.
The company says it is adding stores and doubling its revenue every month. Lorraine Chambers -- recently of Spanx and Sassybax -- signed on as vice-president of business development. The company is on track to hit $1 million in sales this year.
The company, based in D.C., has its fans. Cathy Merrill Williams, publisher of the "Washingtonian" magazine, spends summer vacations sailing in Annapolis. The panties "keep the sweat away on sunny days, while remaining comfortable and soft. I love these panties so much I own the whole line," she said.
"Wicking and odor-technology undergarments have been on the market for years," said lingerie industry consultant Ellen Lewis. "Though it seems this technology might be the next evolutionary step in women's undergarments -- an evolution which started with the sports bra," she said. Lewis, who has 27 years of industry experience, added that if the product performs as advertised and is marketed smartly, it could "meet the needs of women through all the phases of their lives."