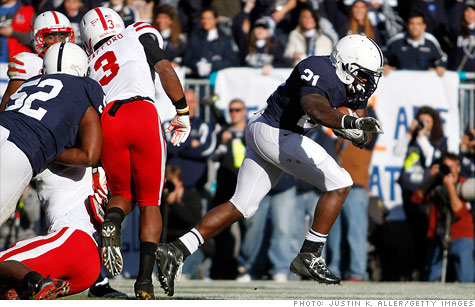 Revenues and profits at Penn State football is about to take a hit due to the scandal there, but overall big time college football is only likely to get richer.
NEW YORK (CNNMoney) -- Penn State likely will be playing before more empty seats than full ones when it takes the field for its bowl game on Monday -- just one sign of tougher financial times ahead for one of the nation's richest teams.
But big-time college football is likely to only get richer.
Penn State was No. 6 in revenue among college football teams last season, $72.7 million. And it was No. 2 in profit, behind only the University of Texas, with $53.2 million.
But following the child abuse scandal and the firing of iconic coach Joe Paterno, experts said the school could expect to lose millions in sponsorship, ticket and merchandise sales in coming years. Donations from alumni could also be hurt. Moody's put Penn State's debt rating under review for possible downgrade.
The first hit to Penn State's bottom line could come Monday with its appearance in the TicketCity Bowl in Dallas.
Penn State ended up in the game after some late season losses killed its chance of getting into one of the big dollar BCS bowls, and other higher-profile bowl spots reserved for Big 10 schools went to other teams.
Missing out on the bigger bowls won't hurt revenue too much, since the conference shares bowl money pretty much equally among the schools. But in going to a lower-profile bowl game far from home, Penn State was only able to sell about 4,000 of the 6,000 tickets it was allocated for the game, and will have to eat the rest.
Tom Starr, executive director of the bowl, said he doesn't think that the scandal hurt as much as the overall economy, adding that bowl game ticket sales are down nationwide.
"Fans don't have the money to travel to see a game," he said Friday. "And where we also are getting hurt is midlevel corporate sales."
But the bowls aren't the major source of revenue for the 122 teams in the Football Bowl Division. Instead the main dollars come from television rights, and revenue from sponsorships, ticket sales and licensed merchandise.
An analysis by CNNMoney of figures filed by the schools with the Department of Education shows that revenue for the major football programs in the 2010-11 school year was up 5% to $2.7 billion.
Profit growth was a more modest 2%, but that still came to $1.1 billion in profits, for a 41% margin that any pro sports team would kill to have.
Revenue and profits should only grow as the big dollar conferences play a game of musical chairs to grab new schools. When the dust of the reorganization finally settles, the moves are expected to bring in even more revenue, especially from television deals.
Dan Fulks, a professor at Kentucky's Transylvania University who consults for the NCAA, said the additional money isn't going to flow evenly to all schools. It will mean that most of the major football programs are only going to get richer.
"It'll widen the gap between the haves and havenots," he said. "The new TV money is certainly going to help, but it's going to help Ohio State, not Bowling Green."