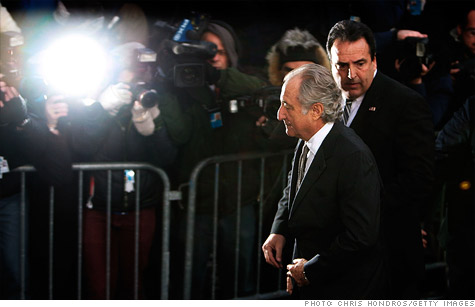 Feeder fund investors who lost their money to Ponzi schemer Bernard Madoff are still out of luck, ruled a district judge.
NEW YORK (CNNMoney) -- A federal district court judge in New York has delivered some more bad news to thousands of investors who lost money to Ponzi schemer Bernard Madoff.
U.S. District Judge Denise Cote ruled that investors in feeder funds that took their money and placed it with Madoff had no legal protection for getting their money back.
This means that 10,976 investors in feeder funds -- the so-called "third-party" investors -- are out of luck once again, at least as far as the trustee is concerned.
"The appellants did not have accounts at [Bernard L. Madoff Investment Securities;] only the feeder funds had accounts at BLMIS," wrote the judge, in her ruling.
In making that judgment, Cote upheld an earlier decision by Irving Picard, the trustee appointed by the U.S. Bankruptcy Court for the Southern District of New York.
Picard, who is in charge of tracking down and allocating Madoff's stolen assets to the victims, decided early in the process that third-party victims who invested in feeder funds were not protected under federal law.
The feeder funds, on the other hand, are considered direct investors and could be eligible for reimbursement, as determined on a case-by-case basis.
The investors who lost their money through feeder funds can only get their money back by pursuing the funds. They cannot get their money back by pursuing the trustee, according to the ruling.
So far, the trustee has determined 2,425 claims as legitimate, for a total value of $7.3 billion.
But hundreds of claims are still pending and Madoff is believed to have stolen as much as $20 billion through his long-running pyramid-style scheme. At least half that amount has been recovered so far, according to the trustee.
Meanwhile, Madoff languishes in a federal prison in Butner, N.C., where is serving a 150-year sentence. He was arrested on Dec. 11, 2008 and pleaded guilty the following March to 11 federal counts related to running the Ponzi scheme.
For decades, Madoff masqueraded as a Wall Street wizard with an investment firm in his own name. But he didn't invest the money that his clients gave him. He stole it, in order to fund a lavish lifestyle for him and his wife Ruth. They lived in a $7 million Manhattan penthouse as well as regal homes in Florida and France. They also had a yacht and an extensive jewelry collection.
Madoff would pay out remittances to keep the scam going. But as the economy unraveled in late 2008, the remittances outpaced the investments. Madoff ran out of money and his scheme fell apart.