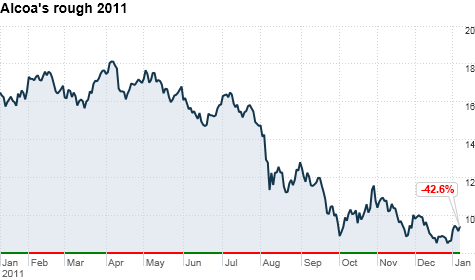 Click the chart for more info on Alcoa shares.
NEW YORK (CNNMoney) -- Aluminum producer Alcoa kicked off earnings season Monday with a fourth-quarter loss in line with analysts' expectations.

Alcoa posted a loss from continuing operations of $193 million, or 18 cents per share. Excluding special items, the firm lost $34 million, or three cents a share, as analysts had predicted.
Revenue came in at $6 billion, up 6% from a year ago and ahead of expectations of $5.7 billion. A year ago, Alcoa reported earnings of 21 cents per share and $5.65 billion in revenue.

Alcoa CEO Klaus Kleinfeld said in a statement that the firm had turned in a "solid performance in a volatile year." For 2012, he said, Alcoa expects global aluminum demand to rise 7% after growing 10% last year.
But revenue was down 7% versus the third quarter. It lagged "primarily due to continued European weakness brought on by the sovereign debt crisis and resulting global market uncertainty," the company said.

Shares of Alcoa closed up roughly 3% Monday and were slightly higher in after-hours trading.

Last year wasn't kind to Alcoa (AA, Fortune 500), with shares dropping over 40% in the past 12 months. Shares slumped further on Friday after the firm said it was cutting its global smelting capacity 12% in response to a drop in aluminum prices.

Things don't look good for firms across the materials sector, which struggled with falling commodity prices during the last three months of 2011 and cooling demand for raw materials from emerging markets.
As the first Dow component to report quarterly earnings, investors will be looking to Alcoa as a potential harbinger of corporate performance these past few months amid a still-uncertain economic recovery.

Experts are forecasting fourth-quarter earnings growth for S&P 500 companies to have sharply slowed, creeping up between just 7% and 8% from a year earlier, according to estimates from S&P Capital IQ and Thomson Reuters.

That would mark the first time companies failed to book double-digit profit growth in two years, and experts say that trend should continue into late 2012.

Fourth-quarter earnings reports will continue with JPMorgan Chase (JPM, Fortune 500) on Friday.