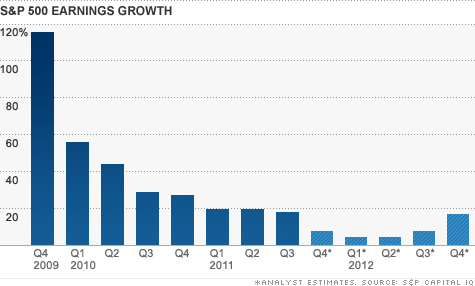 Experts are forecasting S&P 500 earnings growth to slow sharply in fourth quarter, creeping up between just 7% from a year earlier, according to analysts at S&P Capital IQ.
NEW YORK (CNNMoney) -- Corporate America has managed to rake in robust profits over the past few years in spite of the weak economy. But that's about to change.
Experts are forecasting fourth-quarter earnings growth for S&P 500 companies to have sharply slowed, creeping up between just 7% and 8% from a year earlier, according to analysts at S&P Capital IQ, as well as rival earnings tracker Thomson Reuters.
That would mark the first time companies failed to book double-digit percentage profit growth in two years, and experts say they expect that trend to continue into late 2012.
Research firm FactSet is seemingly more bullish with its 11.6% earnings growth outlook. But if you remove the AIG (AIG, Fortune 500) estimate from the firm's overall S&P 500 projection (the insurer is expected to swing from a huge loss in the fourth quarter of 2010 to a small profit in the fourth quarter of 2011), profits for the remaining 499 companies are forecast to rise at just a 4.2% clip.
In other words, don't expect much.
"At the starts of the fourth quarter, the outlook for the U.S. economy was looking dire," said Robert Keiser, a vice president on the research team at S&P Capital IQ Global Markets Intelligence, noting that job creation was low and manufacturing activity was cratering.
"Things have improved over the last few months, but we're still referring to the current economy as a high risk environment," Keiser added. "And we'll be in an elevated risk environment for many years to come, meaning that the economy will be much more vulnerable to shocks and surprises."
In addition to sub-par economic growth and activity, experts cite Europe's ongoing debt crisis as a major driver of uncertainty and a risk to the global financial system.
Amid the mounting worries, analysts have been lowering their expectations for corporate financial results and companies have been downgrading their forecasts too.
Another concerning sign: of the 26 S&P 500 companies that have already delivered fourth-quarter results, only 50% have managed to top expectations, which is significantly lower than normal. For the four prior quarters, around 70% of the S&P 500 companies reported earnings above forecasts.
Following Monday's closing bell, Alcoa (AA, Fortune 500) was the first major company to report results. The aluminum producer posted its first profit decline since the second quarter of 2009.
And it doesn't look good for other companies in the materials sector, which struggled with falling commodity prices during the last three months of 2011, in addition to cooling demand for raw materials from emerging markets. Freeport McMoRan Copper and Gold (FCX, Fortune 500), which reports Jan. 19, is expected to post a 61% drop in earnings for the quarter, according to analysts surveyed by Thomson Reuters.
Telecommunication companies, including AT&T (T, Fortune 500) and MetroPCS (PCS), as well as utilities, like NRG Energy (NRG, Fortune 500) are also on track to report big losses or negative earnings growth, say experts.
On the bright side, energy companies are expected to have logged 29% earnings growth, boosted by higher year-over-year energy costs. The financial sector's profits are also expected to rise modestly during the quarter, driven by insurance and commercial banks.
Though the overall earnings period will probably be lackluster, there is one other glimmer of hope: analysts at S&P Capital IQ expect companies' fourth-quarter revenues to rise almost 9%, which is well above the five-year historical growth rate of 6%.
That means that sales will be the bigger driver for whatever earnings growth companies manage to secure, as opposed to continued cost cutting.