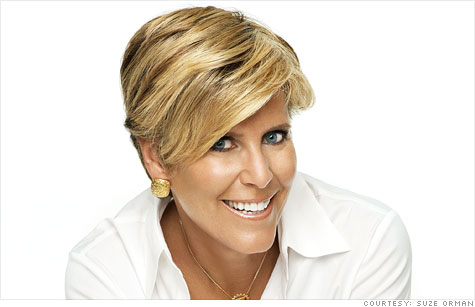 NEW YORK (CNNMoney) -- CNBC's outspoken financial adviser, Suze Orman, has a new piece of advice for her viewers: Go pick up her new, self-branded prepaid card.
Launched on Monday, the Approved Card is supposed to be Orman's consumer-friendly solution to the prepaid card industry, which has been bashed for hitting users with hidden and exorbitant fees and providing inadequate disclosures.
Prepaid cards, which allow consumers to load a card with money that they can spend on purchases, are popular among consumers who have few other banking options because they have no or poor credit and are typically least able to afford such fees.
Orman said the Approved Card, backed by FDIC-insured Bancorp Bank and her reputation as a personal finance guru, is a better, cheaper alternative.
"This is my answer for all those who are looking for a better way to bank, use plastic and feel secure knowing that their interests are being put before fees and profit motives," Orman said in a statement.
And when you compare its fees and terms to controversial cards like the Kardashian Kard, which was taken off the market in late 2010 after allegations that its sky-high fees were illegal, it does look pretty good.
The fees are even displayed in a simple, easy-to-understand list on the card's website. But the card is still far from fee-free.
The fees. Simply purchasing the card costs $3. Then there's a monthly fee of $3 (the first month's fee is waived). ATM withdrawals within the Allpoint network (which has about 37,000 ATMs across the country) costs $2 per transaction, checking a balance costs $1 and getting declined at an ATM costs another buck. These three fees can be waived, however, by making a direct deposit or bank transfer of at least $20 once a month.
Out-of-network ATM withdrawals will always cost $2, plus any fees charged by that ATM operator, and you'll need to fork over $2 per over-the-counter cash withdrawal, say if you ask for cash back when making a purchase at CVS or Walmart.
Want to call someone at the bank? You'll get one free call to a live customer service agent per month. Any calls placed after that will cost $2 apiece. Opting for paper statements will cost another $2 per statement, and replacing a card will cost $3.
The Kardashian Kard had cost $99.95 just to own, including a card purchase fee of $9.95 and monthly fees of $7.95. Meanwhile, Russell Simmon's RushCard costs $3.95 to $14.95 to own and comes with fees of up to $10, or you can pay $1 every time you swipe your card -- capped at a maximum of $10 per month.
While the Approved Card looks affordable next to these celebrity-backed cards, compared to other lower-fee prepaid cards in the industry it's nothing special, said Curtis Arnold, founder of CardRatings.com.
"I wouldn't call it groundbreaking," he said. "There are other cards with fees and features that are comparable, if not better."
Walmart's card, which is issued by Green Dot, for example, gives a $10 bonus for signing up for and waives the $3 issuance fee if you apply online, he said.
And it's always a better idea to go with a bank or credit union-issued free checking account instead of a prepaid card, said John Ulzheimer, CEO of SmartCredit.com. "As long as you don't have horrific credit, you can get a debit card with no usage fees, no monthly fees, and none of the other fees on prepaid cards," he said.
Credit report included. One unique feature of the Approved Card is that it gives customers free unlimited access to their credit reports and credit score.
But TransUnion is the only credit bureau that has signed on to offer their services for free so far, which means consumers won't be able to see their reports and scores from the other bureaus to get a complete picture of their credit.
Orman said TransUnion will collect Approved Card user data to see whether it wants to include prepaid card data on its credit reports in the future. But for now using a prepaid card doesn't impact your credit score, said Ulzheimer.
And the score you get will be a score calculated by TransUnion, not the widely used FICO scores that most banks look at when making credit decisions.
The card will also come with free identity theft protection.
A risky proposition? Even though Orman is plugging her card as a safe financial tool and she has far more credibility than many of the celebrities who have issued prepaid cards in the past, Ulzheimer believes she is taking a huge risk.
"For people like [Orman] who are really well known, for them to all of a sudden have their names associated with a line of products of a questionable nature, I'd say that's risky -- their reputations are already so good right now that they don't have anywhere else to go but down," he said.
"At the end of the day, what she's introducing is still a prepaid debit card, and prepaid debit cards should be at the bottom of the list when it comes to plastic."