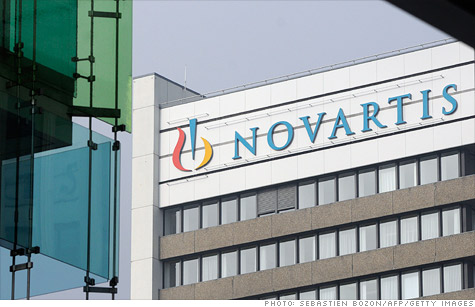 Swiss drugmaker Novartis is cutting nearly 2,000 jobs in the U.S.
NEW YORK (CNNMoney) -- The Swiss drugmaker Novartis is cutting nearly 2,000 jobs in the United States, anticipating the impending loss of patent protection on its blockbuster drug Diovan.
Novartis (NVS) said it is reducing its "field force" by 1,630 positions, primarily sales reps, and cutting an additional 330 jobs at its headquarters. Though the company did not specify where exactly these job cuts would take place, its U.S. headquarters is in East Hanover, N.J., and it also has facilities in Massachusetts and California.
Altogether, Novartis employs about 121,000 workers worldwide, including 30,000 in the United States.
Diovan, a blood pressure medication, is the company's top products, bringing in more than $6 billion in revenue in 2010, the most recent year for sales data.
But Diovan will lose its patent protection in September 2012. When that happens, it will open the market for generic production by competing drugmakers such as Teva Pharmaceutics (TEVA) in Israel and Barr Pharmaceuticals in New Jersey, which will cause the price of the drug to plummet.
That's great news for patients with cardiovascular problems, but bad news for Novartis. The company has an ample supply of billion-dollar blockbusters, but none of them come close to Diovan.
After Diovan, the Basel-based drugmaker's top-selling medications are the cancer drugs Gleevec and Glivec, with nearly $4.3 billion in 2010 sales. Novartis has three other billion-dollar blockbusters, including Lucentis, a treatment for vision loss, at $1.5 billion in 2010, as well as the cancer drugs Zometa, also at $1.5 billion, and Femara, at nearly $1.4 billion.
Novartis is reacting to a failed study, announced in December, involving the drugs Rasilez and Tekturna for diabetics. The failure of the late-stage "altitude" study dried up another potential sources of sales for Novartis.
The job cuts will take place in the second quarter, the company said.