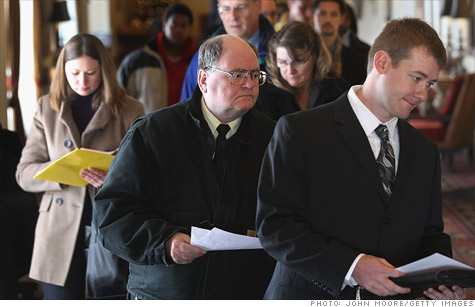 Job applicants attend a job fair in Denver in December.
NEW YORK (CNNMoney) -- Just as the jobs recovery seemed to be picking up, the number of Americans filing for first-time unemployment claims rose more than expected last week.
The Labor Department reported Thursday that 399,000 people filed for initial jobless benefits, up 24,000 from the week before. That's awfully close to the 400,000 level economists often say is too high to bring the unemployment rate down substantially.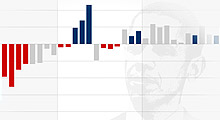 The U.S. lost 4.3 million jobs in President Obama's first 13 months in office. Track his progress since then.
But it's too early to start worrying just yet. The encouraging news brought by last week jobs report is not off the table, economists say.
"This can be a wonky period for claims," Jennifer Lee, senior economist with BMO Capital Markets said in a note. "So let's give this a few weeks to see how it plays out."
The initial claims numbers are adjusted for seasonal trends, but economists still had expected a slight tick up last week due to temporary holiday jobs ending.
Many caution not to read too much into one week of data. They look instead to the four-week moving average, which smoothes out volatility. It also ticked up last week, but overall, has remained near the lowest levels since 2008 for about a month.
"We continue to view the labor market as gradually gaining momentum, so anticipate that claims will resume a modest downward trend in the coming months," Troy Davig, senior U.S. economist at Barclays Capital said in a research note.
Meanwhile, just over 3.6 million Americans filed continuing claims in the week ending December 31. That marked an increase of 19,000 from the week before.
The Labor Department's monthly report released Friday showed employers added 200,000 jobs and the unemployment rate fell to 8.5% in December. (Check the unemployment rate in your state).