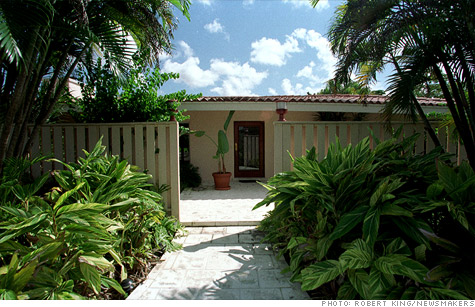 O.J. Simpson's Kendall, Fla. home.
NEW YORK (CNNMoney) -- PETA wants O.J. Simpson's house.
Why?
To set up a "Meat Is Murder" museum, of course.
In a letter addressed to Jamie Dimon, JPMorgan Chase's CEO, People for the Ethical Treatment of Animals asked if the bank would either donate or sell the house to the animal rights group for a "nominal sum" once the bank completes the foreclosure it's pursuing on Simpson's home.
Ingrid Newkirk, PETA's president, assured Dimon in the letter that if the organization is able to acquire the five-bedroom Kendall, Fla. home, it would put it to good use by turning it into a "Meat Is Murder" museum that would teach visitors that "nonviolence begins on our plates."
AChase (JPM, Fortune 500) spoksesman said the bank would not comment on the matter.
PETA said it chose Simpson's home because the former football star actively endorsed the consumption of meat. Simpson, they said, was a spokesman for a chicken restaurant chain, owned two restaurants himself and held an ownership stake in several HoneyBaked Ham stores.
The organization said it was serious about its request.
"Hope springs eternal." said Newkirk. "We said we wanted a building in Los Angeles a couple years ago and Bob Barker came up with $4 million to buy it."
In addition to educating visitors about the treatment of animals used for meat, the museum would offer free samples of foods made from healthy, plant-based proteins, including veggie burgers and faux chicken.
"If they say yes, we'll be working on the menu," said Newkirk.
Simpson is currently serving a prison sentence of up to 33 years for a 2007 armed robbery and kidnapping in Nevada. According to a source familiar with the matter, he stopped making payments on his Florida home in 2010.
In November, his attorney filed a motion to dismiss the foreclosure proceedings. But the bank is moving forward with the action, the source said.