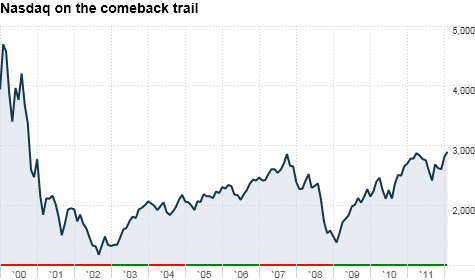 The Nasdaq is trading at its highest level since December 2000 ... but tech stocks are still way below their March 2000 dot-com bubble peaks.
NEW YORK (CNNMoney) -- The Nasdaq is at its highest level since the end of 2000. Highly speculative companies like Netflix (NFLX) and Zynga (ZNGA) are soaring, and investors are salivating about possibly paying 100 times earnings for Facebook when it goes public.
If you want to declare that tech stocks are once again a bubble ... you'd be dead wrong.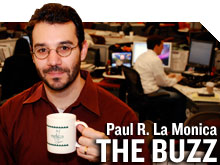 Sure, some techs like Netflix, Amazon.com (AMZN, Fortune 500) and Salesforce.com (CRM) (to name a few) trade at extremely high price-to-earnings ratios for this year and next. But they are the exception, not the rule.
As tempting as it may be to declare that techs are frothy -- as they were just before the dot-com bubble burst in March 2000 -- it's simply not true.
Take a look at the Nasdaq 100 (NDX), the largest non-financial stocks in the Nasdaq Composite. While it's not a pure tech index since it also includes companies like Starbucks (SBUX, Fortune 500), Amgen (AMGN, Fortune 500) and Wynn Resorts (WYNN), it is very tech heavy.
The largest companies in the index by market value are Apple (AAPL, Fortune 500), Microsoft (MSFT, Fortune 500), Google (GOOG, Fortune 500) and Oracle (ORCL, Fortune 500). Intel, Cisco Systems and Qualcomm are in the top ten.
Of those seven companies, the most expensive is Qualcomm (QCOM, Fortune 500). And it's trading at only 16 times 2012 earnings forecasts, in line with its growth rate.
Apple, Microsoft, Intel (INTC, Fortune 500) and Cisco (CSCO, Fortune 500) all trade at 11 times calendar 2012 earnings forecasts. Oracle has a P/E of 12 while Google trades for just 14 times profit forecasts.
The Nasdaq 100, overall, is trading at just 18 times earnings estimates for 2012. That's more expensive than the broader market, but it's not that crazy considering that earnings, on average, for the Nasdaq 100 companies are expected to increase 14 percent this year.
Of course, none of the big techs are growing as rapidly as they were a few years ago, save for Apple. So it's understandable why some investors may be more interested in companies with greater growth potential. Like Facebook for example.
But the big techs look extremely attractive and relatively safe. That's a rare combination.
"Valuations for larger tech companies are reasonable. And many of the big companies are generating a lot of cash flow," said Sunil Reddy, portfolio manager with Apex Capital Management in Dayton, Ohio.
"Growth rates have come down compared to 10 years ago, but the balance sheets are much stronger," Reddy added.
Investors do need to be cautious. The Nasdaq is up more than 11% already so far this year. Tech stocks have risen so far, so fast in 2012 that it would be tough to imagine them heading higher without some sort of correction.
"We might be getting a little overbought. There is a lot of enthusiasm about tech stocks in a short period of time, so there could be a pullback," said Andrew Fitzpatrick, director of investments with Hinsdale Associates in Hinsdale, Ill.
However, Fitzpatrick thinks that any pullback could be brief. Keep in mind that even though the Nasdaq is at its highest level since December 2000, the index is still 44% below the all-time highs it hit earlier that year.
"The outlook for tech stocks is still positive. The Nasdaq has been undervalued for a while," Fitzpatrick said.
So no matter how pricey Facebook is when it starts trading in a few months, don't mistake a possible bubble in social media and other parts of the tech food chain as being a bubble covering all of tech.
"Many of the big tech companies are in good product cycles, have recurring revenue streams and they are cheap," said Ted Parrish, co-manager of the Henssler Equity Fund (HEQFX) in Kennesaw, Ga. His fund owns big stakes in Apple, IBM (IBM, Fortune 500) and Qualcomm.
"Facebook is an outlier. You can't look at Facebook and say other techs are too expensive," Parrish added.
Best of StockTwits: Investors were all worked up about a report on the Good E-Reader blog that said Amazon is planning to launch a retail store in Seattle to sell its Kindle tablets. If true, that would be very Apple-esque. But some don't think it's a good idea.
Pridon: $AAPL $AMZN I don't believe the rumor re Amazon retail. It would expose AMZN to sales tax in each state. Margins on Kindles too low.
It does seem curious. Then again, many doubted Apple would be able to be successful with its own brick-and-mortar stores. But it's important to note that this report hasn't been substantiated yet. And there have been rumors like this before. Nonetheless ...
shoedeep: @Pridon good point. Retail store just for advertising is just too expensive! Need a high margin product, $AMZN doesnt have it! $AAPL
ldrogen: $AMZN will gut itself trying to bloody up $AAPL, u have to know when not to get involved in a fight
Indeed. Not sure Amazon has enough in its hardware arsenal that it could sell in its own stores. Unless the target isn't Apple as much as ...
oktobernv: $AMZN opening retail stores to focus on E-readers and books?? That's gonna be REAL bad news for $BKS
Hard to imagine there being more bad news for Nook owner Barnes and Noble (BKS, Fortune 500). And the struggles of BKS and the now-defunct Borders make me think Amazon may want to think twice before deciding to open up its own chain of stores.
By the way ... how about them Super Bowl champion New York Giants!
The opinions expressed in this commentary are solely those of Paul R. La Monica. Other than Time Warner, the parent of CNNMoney, and Abbott Laboratories, La Monica does not own positions in any individual stocks.