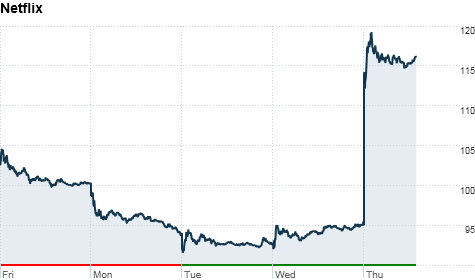 Netflix's stock is up more than 20% today, likely from a short squeeze. Click chart for more on NFLX.
NEW YORK (CNNMoney) -- Netflix is the highest flying stock on the S&P 500 (SPX) Thursday, but was its fourth-quarter earnings report enough to justify a 22% run up in the stock?
The short answer: no.
The streaming video and DVD by mail firm is a heavily shorted stock. Roughly 22% of all Netflix (NFLX) buyers have shorted it, or borrowed the stock on a bet that its price will fall.
It's not a surprise for a company's stock to get a lift following strong earnings but in this case, the better-than-expected results pushed investors who borrowed the stock to sell it at a higher price for a loss, according to two traders who have been buying and selling the stock today.
"A lot of people don't have the stomach to take the huge loss on the short," said one trader who asked to remain anonymous because of regulatory concerns.
The phenomenon is known as a short squeeze. Investors rush to buy the stock before it heads higher because they must eventually return the shares they borrowed.
A Netflix spokesperson declined to comment.
The company's fourth-quarter earnings beat expectations, despite a 13.5% drop in profit. Overall, Netflix surprised Wall Street adding customers in the fourth quarter and in turn growing sales by 47%.
Netflix's stock dropped 60% during 2011, after a PR nightmare over its attempt to split its service and losing subscribers with a 60% price hike in July.
Richard Greenfield, a technology analyst with BTIG, said the number of hours that subscribers spent watching Netflix bodes well for the long-term staying power of the company.
Netflix said that subscribers watched roughly 2 billion hours of its content during the fourth quarter, its highest amount of record.
"More usage is driving down churn which is helping subscriber growth," said Greenfield.
Nasdaq reports short interest on stocks twice monthly, so investors will have to wait until late January to find out whether more investors are betting on the stock to go down.