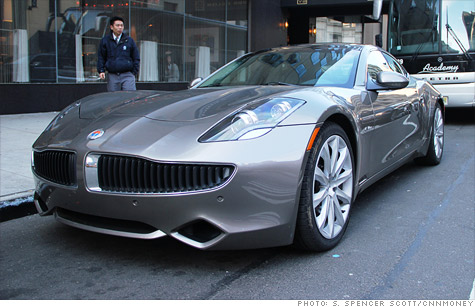 The Department of Energy has cut off Fisker's loans but analysts don't expect the electric carmaker to crash and burn.
NEW YORK (CNNMoney) -- When Fisker Automotive announced it was laying off about two dozen workers at its Delaware factory, comparisons arose to Solyndra, the solar cell manufacturer that went bankrupt despite billions of dollars in U.S. government help.
Yes, the California based electric car maker and Solyndra both got a lot of government assistance, but analysts say those comparisons are unfair and premature.
The DOE had agreed to lend Fisker $529 million, and the carmaker had gotten $193 million of that before funding was cut off in May.
The company said it was cut off because it failed to meet production milestones for the Karma, a luxurious "range extended electric car," similar in nature to the less opulent Chevrolet Volt. But production is now underway and the Karma is on sale with prices starting at $103,000.
"Bringing a new car to market isn't easy and we missed some milestones," said Fisker spokesman Roger Ormisher.
About 1,500 of those cars, assembled in a factory in Finland, have now been built and about 300 are in customers' driveways, Ormisher said.
Fisker's next big project is a more affordable car -- about half the price of the Karma -- code-named Nina. It was to be built in a former General Motors factory in Delaware in which Pontiac Solstice, Saturn Vue and Opel GT sports cars used to be built.
That plant had been on schedule to begin producing the new cars in late 2012 with deliveries to customers expected in mid-2013, Ormisher said, but now that car may be subject to delays, too, as Fisker works to renegotiate its loans with the DOE.
Both Fisker and the DOE have said they are working together to reach new agreements in order to get the funds flowing again.
Fisker noted in a statement that it is not simply reliant on government money.
The company said it recently received $260 million in funding from private capital, and that to date the company has received $850 million from the private sector.
Relax, it's a start-up: Production delays are nothing new in the auto industry, analysts pointed out, especially for brand new automakers.
"Look how many times Tesla had to delay the roadster before it came out," said John O'Dell, a "green cars" analyst with the automotive Web site Edmunds.com.
Elaine Kwei, a business analyst with Jefferies & Co, agreed.
"We often see delays for introductions of new technology, especially for a product as complex and regulated as an electric vehicle," she said. "We've seen delays from manufacturers as large as Toyota (TM) as they perfect vehicles for release."
Tesla has now completed its production run on the Roadster and will soon begin production on a new seven-seat sedan, the Model S.
Money for cleaner cars: Fisker and Tesla, along with other automakers, received funding from the Department of Energy's Advanced Technology Vehicles Manufacturing program.
The program was established by the government in 2007 as part of an effort to help automakers become more fuel efficient. It has funded $8.4 billion in projects so far.
The biggest chunk of the auto loan program's money has gone to Ford (F, Fortune 500), receiving nearly $6 billion in 2009 to upgrade factories in five states to make more fuel efficient vehicles.
Nissan (NSANY) also received $1.4 billion under the program and Tesla (TSLA) got $465 million.
The auto loan program is part of a broader initiative by DOE to support all manner of renewable, clean, and energy efficient technologies. The initiative, which goes back to 2005 but was expanded under the stimulus plan in 2009, has funded nearly $40 billion in projects so far.
Other parts of DOE's broader energy initiative include:
Renewables: DOE had a program that awarded loan guarantees to companies in the wind, solar and energy storage space.
It's from this program that solar panel maker Solyndra received over half a billion dollars in funding.
Solyndra declared bankruptcy last year, setting off a firestorm of political criticism from opponents of the program that contend the loan was made due to political connections the company's backers had with the Obama administration.
Beacon Power, a maker of power storage devices that received a $43 million loan guarantee under this program, also declared bankruptcy last year.
The program, which is now over, has funded another 25 companies or projects to the tune of $16 billion. Most of the loans are expected to be repaid, so when all is said and done it's expected to cost taxpayers far less than $16 billion.
Nuclear: This DOE program was set up in 2005 to fund risky technologies that are unable to get all their funding in the private arena.
The bulk of its $10.5 billion in loan guarantees issued so far has gone to two nuclear power plants, including $8.3 billion for a nuclear power plant in Georgia that's expected to receive its operating license this week.
It has also funded a couple of energy efficiency projects.
Batteries: DOE awarded $2.4 billion in stimulus grants to fund projects making better electric car batteries in 2009.
The grants went to 48 different projects, including $118.5 million to EnerDel to help build a manufacturing plant in Indianapolis.
EnerDel's parent company Ener1 declared bankruptcy last month, although the firm hopes to reorganize and emerge as a going concern shortly.
DOE's loans and grants were controversial even before any companies ran into trouble. Many conservative lawmakers argue the government should not be in the business of supporting private industry.
But President Obama has refused to apologize for the programs, saying the government should support these businesses in their early years so the country can compete with industries in other nations that lavish support on their own clean tech sector.
"Some technologies don't pan out; some companies fail," the president said during his State of the Union address. "But I will not walk away from the promise of clean energy."