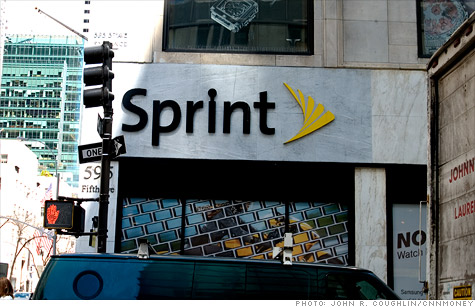 NEW YORK (CNNMoney) -- With the iPhone, Sprint is learning that it should be careful what it wishes for.
Sprint (S, Fortune 500) joined AT&T (T, Fortune 500) and Verizon (VZ, Fortune 500) last quarter as the third national carrier to sell Apple's iconic smartphone, and the company announced Wednesday that it sold a better-than-expected 1.8 million iPhones over the past three months. That helped Sprint show its biggest customer base growth in six years, and its average revenue per user rose by the highest rate in the wireless industry's history.
But selling the iPhone, for which Sprint pays a gigantic up-front subsidy, came at a heavy price: Sprint posted its biggest quarterly loss in three years.
The nation's third-largest wireless company focused on the positive aspects of the story.
On a conference call with analysts, CEO Dan Hesse noted that 40% of the company's iPhone sales went to new Sprint customers -- well above the number of new customers that Verizon or AT&T attracted with their iPhones. Sprint also posted its best-ever postpaid churn rate -- the percentage of customers under contract who drop their service.
"Sprint has shown continued momentum in recent quarters ... and I believe that the iPhone will continue to bring value to our brand," said Hesse.
Yet investors were largely unimpressed. Sprint's stock fell 5% at the market's open.
Sprint remains a company in transition, still reeling from its ill-fated merger with Nextel in 2005. In an effort to get back on track, the company is in the midst of implementing "Network Vision," a plan to overhaul and simplify its network infrastructure. The operation has been cheered by analysts, but investors are concerned that Sprint's high capital expenses and continued quarterly losses have resulted in an extremely thin cash cushion.
That's why the high iPhone subsidy is so jarring. Sprint didn't say exactly how much it forked over to Apple during the quarter, but the company noted that its adjusted wireless margin fell to 9.5%, down from 16% a year ago. That's a huge and problematic drop.
Sprint said that its margins would have been nearly nine percentage points higher if not for two expensive investments. The iPhone subsidy was by far the biggest drain, but Sprint's Network Vision spending also played a part.
Sprint estimated in October that it would pay $15.5 billion in up-front iPhone subsidies over the next four years. But the company also said it expects the device to eventually be its most profitable smartphone.
For the quarter, the Overland Park, Kan.-based wireless provider posted a $1.3 billion loss, 40% larger than the $929 million loss it recorded a year earlier. Excluding one-time charges, the company said it lost 35 cents per share, less than the 37-cent loss forecast by a Thomson Reuters poll of analysts.
Sales for the company rose 5% to $8.7 billion, topping analysts' forecasts of $8.6 billion. Average revenue per user under contract grew by $3.69 to $58.59.