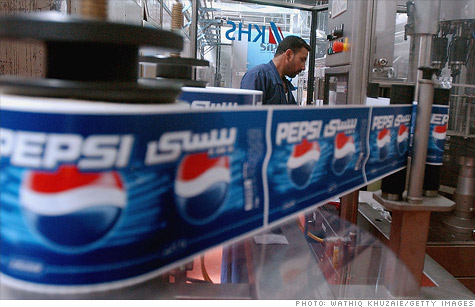 PepsiCo plans to cut about 8,700 jobs in an effort to save $1.5 billion.
NEW YORK (CNNMoney) -- PepsiCo announced plans on Thursday to cut about 8,700 jobs as part of an effort to save some $1.5 billion in costs.
PepsiCo said the new cost-cutting plan will occur in 30 countries through 2014. PepsiCo spokesman Jeff Dahncke said that less than 2,000 of the job cuts will occur in the U.S., where the company employs 100,000 workers.
PepsiCo's (PEP, Fortune 500) stock slipped 4% in morning trading.
PepsiCo, which is based in Purchase, NY, noted that the job cuts represent less than 3% of its 300,000-strong global work force. The company still has numerous job openings listed on its web site.
Even as it cuts costs, the company said it plans to boost its spending on advertising and marketing by $500 million to $600 million this year, "with particular focus on North America."
PepsiCo is also planning to hike its dividend by 4%, to $2.15 per share, payable in June 2012, and to repurchase at least $3 billion in shares this year.
The job cuts are happening even as Chief Executive Indra Nooyi said the company experienced 8% annual growth in earnings per share over the last five years, and returned about $30 billion to shareholders in the form of dividends and share repurchases.
The company's plan to cull its work force follows a recent report from the U.S. Labor Department saying that the economy gained 243,000 jobs in January, knocking down the unemployment rate to 8.3%.
On Thursday, the Labor Department said that adjusted initial claims -- the number of unemployed workers applying for government assistant -- dipped to 358,000 in the week ended Feb. 4. That's a decline of 15,000 from the prior week.
Still, it's too early to tell whether the good employment news is a trend or a temporary blip.