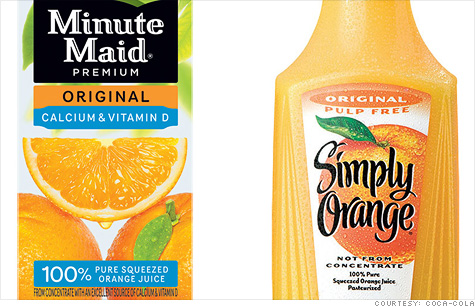 Coca-Cola, which makes popular brands Minute Maid and Simply Orange, kicked off an FDA probe into fungicide found in orange juice from Brazil.
NEW YORK (CNNMoney) -- Coca-Cola, maker of Minute Maid and Simply Orange, said Thursday that it was the company that originally alerted U.S. regulators to the issues surrounding Brazilian orange juice after it found a fungicide in some of its products.
The Atlanta-based beverage giant notified the U.S. Food and Drug Administration on Dec. 28 after detecting low levels of carbendazim in its own and in competitors' finished orange juice and in juice concentrates that were not yet on the market.
Coca-Cola said it routinely tests "incoming juice ingredients and any ingredients that do not meet our safety and quality standards are rejected."
While the fungicide is legal in Brazil, where it is used to combat a type of mold that grows on orange trees, as well as other parts of the world, it is considered an "unlawful pesticide chemical residue" under U.S. law, the FDA said.
Coca-Cola (KO, Fortune 500) said it immediately informed the FDA after it "discovered that some Brazilian growers had sprayed their trees with a fungicide that was not registered for use in the U.S."
The FDA said it does "not intend to take action to remove from domestic commerce orange juice containing the reported low levels of carbendazim."
While Coca-Cola's primary supply of orange juice in the U.S. comes from Florida, the company also imports products from Brazil.
Overall, 11% of all orange juice consumed in the United States is imported from Brazil, according to the U.S. Department of Agriculture.
Following Coca Cola's alert, the FDA said earlier this week that it has halted shipments of orange juice and orange juice concentrate from all over the world and will test each one for the fungicide. The regulating agency said it will deny entry to shipments that test positive for carbendazim.
So far, the levels of the fungicide that have been detected are "very low," the FDA said, and the Environmental Protection Agency said those levels do not raise safety concerns, according to a preliminary risk assessment.
Coca-cola said it could not comment on whether the discoveries would affect pricing of its orange juice products.
--CNNMoney's Catherine Tymkiw contributed to this report.