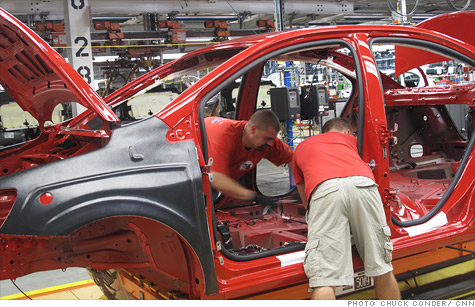 GM posted record earnings in 2011, just two years after a federal bailout and bankruptcy reorganization.
NEW YORK (CNNMoney) -- General Motors reported a record annual profit Thursday, just two years after the nation's largest automaker emerged from bankruptcy with the help of a federal bailout.
With rivals Ford Motor (F, Fortune 500) and Chrysler Group having already reported profits for last year, 2011 marked the first time since 2004 that all three major U.S. automakers were profitable at the same time. Chrysler also filed for bankruptcy and received federal assistance in 2009.
Overall, GM reported full-year net income attributed to common shareholders of $7.6 billion, which comes to $4.58 a share. That's up from the $4.6 billion it earned in 2010.
GM's results show the impact of changes made during the bankruptcy process in the summer of 2009, when it closed plants, won changes in labor contracts, and shed weaker brands and dealerships. The moves allowed the company to be far more profitable even though sales levels are still below pre-recession levels.
Overall global sales volume rose 7.6% to 9 million for the year, enough to allow it to recapture the global sales title it held for 77 years before it fell behind Toyota Motor (TM) in 2008. Revenue rose 10.8% to $150.8 billion.
The company's previous record profit was in 1995, when its net income was $6.9 billion, although $900 million of that earlier profit came from units it was in the process of spinning off. GM considers its previous record profit to have come in 1997, when it earned $6.7 billion.
But a bloated cost structure, including unaffordable U.S. labor contracts, and a prolonged decline in market share soon doomed the company. It remained profitable in the first five years of the new century only through record industry wide auto sales in the United States. By 2005, GM had fallen into a period of sustained losses that eventually led to it nearly running out of cash by the end of 2008.
The company received $49.5 billion in federal help to fund its operations in 2009, when private-sector money was scarce and there were doubts about the company's survival.
GM has repaid loans it received, and the Treasury got most of the proceeds of its record initial public offering in November 2010. But Treasury still holds about a third of the company's shares, which are trading below its IPO price, and GM has yet to return $25.5 billion of the money it received.
Shares would have to roughly double, to above $50 a share, for taxpayers to break even on the bailout. Taxpayers fell about $1.3 billion short on the Chrysler bailout.
But even if the bailouts are not repaid directly by GM and Chrysler, there are estimates that taxpayers are better off for the bailouts.
The federal assistance probably saved about 1.5 million jobs, according to an estimate from the Center for Automotive Research, and prevented GM, Chrysler and many U.S. parts suppliers from being forced out of business, which would have been a huge blow for tax revenue. All the major U.S. automakers are again hiring, and further job gains are forecast in the coming years.
But the bailouts are still controversial. Republican presidential candidate Mitt Romney has attacked them, calling them "crony capitalism on a grand scale" and criticizing the Obama administration for giving ownership stakes in both GM and Chrysler to union-controlled trust funds. He argues that the companies would be better off if the reorganization has been purely done by the private sector.
"The president tells us that without his intervention things in Detroit would be worse. I believe that without his intervention things there would be better," Romney wrote in an opinion piece in the Detroit News earlier this week. In it, he called for Treasury to sell its stake in GM.
The 2011 earnings results are good news for the 47,500 U.S. factory workers at GM, who will each get profit-sharing bonuses averaging $7,000, up from $4,300 in 2010. The profit sharing was part of the labor deal the United Auto Workers and GM reached last fall. The provision, which is matched at the other unionized automakers, was the automakers' top priority in negotiations,as it replaced the automatic wage increases and cost of living adjustments the union had won in most labor deals before 2007.
Despite the record annual profit, the quarterly results were a disappointment. The company earned $468 million, or 28 cents a diluted share, down from what it earned a year earlier. Part of that was due to an 11-cent-a-share charge for special items in the most recent period.
Analysts surveyed by Thomson Reuters had been forecasting earnings per share of 41 cents in the period.
Shares of GM (GM, Fortune 500) initially fell in premarket trading after the report, but then rebounded and opened up. Shares were 6% higher in midday trading. Adam Jonas, analyst with Morgan Stanley, said better-than-expected results in North America and a better outlook on GM's pension funds helped lift shares, despite the overall miss on the quarter.
Operating income in North America nearly doubled in the quarter to $1.5 billion. But European losses remained steady, and South American operations swung to a loss after a narrow profit a year earlier.
International operations outside those regions was only slightly more profitable, despite continued gains in sales in China, where GM now sell more cars than in North America.