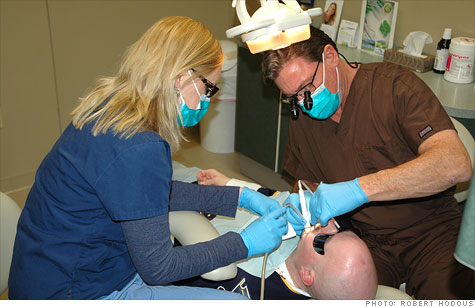 Robert Hodous accepts a local currency at his dentistry practice and has been attracting uninsured patients who haven't seen a dentist in years.
NEW YORK (CNNMoney) -- When a doctor spotted a lump on Alisha McNamara's lungs earlier this year, she and her husband Michael started panicking.
The couple had gotten rid of their health insurance when sales at their Fayetteville, Ark. pizza shop, Bariola's Pizza, started sliding last year.
For two months, they agonized over how they were going to afford the MRI and other tests that the doctor said Alisha needed, until they remembered their stash of "Trade Dollars," a local currency used in the Fayetteville area.
The currency, issued by a company called Local Trade Partners, allows local business owners to exchange goods and services without using U.S. dollars. An auto repair man could earn Trade Dollars by fixing someone's car, for example, and then use the Trade Dollars he earned to buy a pizza at Bariola's. The McNamaras could then use the currency at other local businesses that accept it, including a handful of medical care providers.
With a record number of Americans going without health insurance, alternative currencies like Trade Dollars have become one of the few ways the uninsured can afford much-needed health care.
Launched in 2009, this alternative currency has become increasingly popular as the U.S. dollar loses its buying power and the struggling economy takes a toll on consumers' finances, said Local Trade Partners founder Rich Creyer. Since early last year, the number of members using the currency grew from 300 to 548. And about 60 of them are health and wellness providers -- including hospitals, chiropractors, dentists, pharmacies, eye doctors and even plastic surgeons.
When business owners first join the Trade Dollars network, they are given an interest-free line of credit ranging from 1,000 to 5,000 Trade Dollars (depending on their credit history and the size of their business). They are then issued special checks that are linked to the accounts. Each time a member makes a purchase or a deposit, they are charged a 5% fee. Each Trade Dollar is roughly equivalent to one U.S. dollar.
As more business owners in the area signed on to use Trade Dollars, and started using them to buy pizza at Bariola's, the McNamaras had accumulated a healthy reserve of the currency. In total, the Trade Dollars covered $3,000 worth of Alisha's medical tests.
"If we didn't have Trade Dollars, that would have been a serious problem -- we wouldn't have been able to afford the tests," said Michael.
Fortunately, those tests came back negative. But Alisha is required to get check-ups every six months, and the McNamaras plan to use Trade Dollars for those visits as well.
Funny money, real care
Robert Hodous, one of eight dentists in the Local Trade Partners network, said he has gained a new customer base since joining Local Trade Partners. Hodous said most patients using Trade Dollars come to him for emergencies, and so far, all of them have been uninsured.
"Most people are real dental cripples -- there's rampant periodontal disease, lots of infections, broken teeth, teeth rotted down to the gum line, black teeth," said Hodous. "They've lost their jobs, or don't have extra money, so they've just been putting it off. Having Trade Dollars forces them to say, 'Okay, I need to take care of myself'.
The tables were turned last summer when Hodous' daughter had an allergic reaction and needed to be rushed to the emergency room. His insurance was very limited and he didn't have the savings for an emergency, so he paid the $1,900 bill in Trade Dollars.
"I happened to have an emergency fund of these Trade Dollars, so I took her to the local hospital that's part of the network -- it was really a no brainer," he said.
Prescriptions have also become easier to afford thanks to local currencies.
Equal Dollars, a community currency in Philadelphia that can be earned through community service, helping people with odd jobs or selling belongings on the exchange's classifieds database, lets members save up to $5 per prescription by using their local currency. While that may not seem like a lot of money, it can really add up for those with serious illnesses.
Patricia and Ambrose Rowland, for example, earn Equal Dollars by volunteering at a local food market every Monday, where they help unpack, sort and price vegetables. By using those Equal Dollars at the local pharmacy, they save $80 a month -- nearly $1,000 a year -- on the 16 combined prescriptions they get filled for health problems like high blood pressure, high cholesterol and arthritis.
Ambrose, 74, is retired, and Patricia, 63, is disabled after suffering an aneurysm several years ago. They live in low-income housing and while Ambrose has Medicare, Patricia is uninsured.
"There's no way in the world we could afford all the medication we're on without that help -- we would have to make a choice and cut down on food or some other necessity," said Patricia.
Timebanking, another form of alternative currency, allows members to exchange their time instead of money. It has been an especially popular method for helping low-income members access medical care.
Hour Exchange Portland, a timebank in Portland, Maine, has more than 60 health and wellness providers among its 800 members. At one of the health care centers, doctors must volunteer a certain amount of services each month. They're able to meet this requirement by providing assistance to low-income members -- most of whom also lack medical insurance, said Ed Collom, the chair of the timebank's board of directors and an associate professor of sociology at the University of Maine.
"Any wage differences in a formal economy are erased," said Collom. "Low income members are able to get a variety of services that they wouldn't otherwise be able to afford, including some crucial medical help."