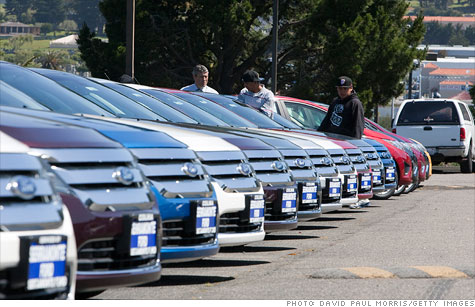 With gas prices surging, car sales were on pace for their best month in four years in February.
NEW YORK (CNNMoney) -- Consumers flocked to auto dealerships in February at the strongest pace in four years, hungry to buy fuel-efficient vehicles and to upgrade to newer trucks.
Industrywide U.S. sales rose 15.7%, according to sales tracker Autodata, which puts the annual pace of sales at 15.1 million vehicles when adjusted for seasonal factors. That's a big jump from the 14.1 million annual sales rate in January and the best pace of sales since February of 2008.
General Motors (GM, Fortune 500), Ford Motor (F, Fortune 500) and Chrysler Group all reported improved monthly sales with strong demand for both fuel-efficient models and big trucks. Toyota Motor (TM), the Japanese automaker known for the fuel economy of its offerings, posted its best gain in sales in a year.
The strong sales came in the face of high gas prices, which climbed steadily throughout the month and are about 33 cents a gallon higher than a year ago.
Buying new trucks can be a good strategy for truck owners dealing with high gas prices, since newer trucks typically get better mileage than the older versions on the road.
But typically gas price spikes lead to sharp drops in truck purchases, as potential buyers don't want to commit to a loan payment until they see how much they'll have to pay at the pump. For example, in May and June of 2008, as gas prices approached and hit $4 a gallon for the first time, truck sales fell by more than 20% compared to a year earlier.
Experts said the U.S. automakers are far better prepared for the current gas price spike than they were four years ago, with far more high-mileage offerings.
"What a difference four years and a change in product lines make," said Michelle Krebs, senior analyst with Edmunds.com.
But U.S. automakers still sell more far more trucks than fuel efficient cars, and overall sales would have be far weaker without strong demand for trucks, which typically take a sales hit with gas price spikes.
"Clearly this month is beyond anyone's expectations," said analyst Jesse Toprak of TrueCar.com. "People feel more comfortable making a big ticket purchase today than they have in the last several years."
GM attributed the strong demand to an improved jobs picture and better credit availability, coupled with improvement in the housing market and consumer confidence helped to lift demand even in the face of higher gas prices.
"The underlying economy is probably the biggest factor," said Don Johnson, GM's vice president of U.S. sales.
One big advantage for pickup truck sales was a boost in home building. The construction industry and its workers are a prime market for pickup sales, and many in the industry have been delaying truck purchases in recent years due to depression-like conditions in that market.
But government figures show builders started more homes in the three months ended in January than any other three-month period since late 2008.
Sales at GM were up only 1.1%, but that was far better than the forecast decline at the No. 1 automaker. The comparisons were also to a particularly strong sales month a year ago for GM.
The plug-in electric Chevrolet Volt, the company's highest profile high-mileage car, enjoyed a 70% jump from January's sales total, and more than tripled year-earlier sales when the model was still in the process of being rolled out.
But the company also reported increases of between 20% and 28% for its heavy-duty pickup models.
Ford, the No. 2 automaker in terms of U.S. sales, reported a 14.4% increase in sales.
It was helped by a 114% jump in sales of the compact Focus, the company's key fuel-efficient offering. But truck sales also posted a 20.6% rise, led by a 25.9% increase in sales for the full-size F-series pickup truck.
Ford spokesman Erich Merkle said demand for more fuel-efficient models picked up as the month progressed. He said that the company also saw strong demand for the more fuel-efficient offerings within each model, such as a six-cylinder version of the F-150 pickup rather than the eight-cylinder model.
Chrysler Group reported its best February sales since 2008, up 40% compared to a year ago. The Fiat 500 subcompact car, the company's most fuel-efficient offering, had its best sales month since the relaunch of the brand last year.
But it also reported good sales for its Jeep and Ram truck brands, with sales of the Jeep Grand Cherokee SUV jumping 47%, while the full-size Ram pick-up truck posted a 22% gain.
Toyota reported a 12.4% rise in sales, helped mostly by its fuel-efficient models. U.S. sales of the Prius, the world's best-selling hybrid model, jumped 52%, and sales at its compact Scion brand rose 25%.
But it had a harder time bringing in truck buyers, as sales of the Tundra, its full-sized pickup, fell nearly 10%, and its minivan and SUV sales also declined.