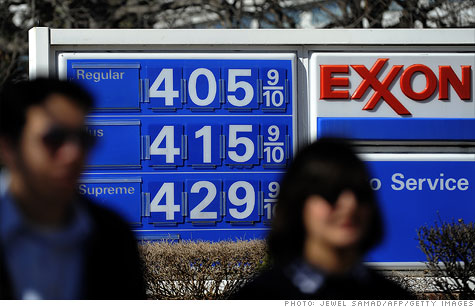 Gas prices continue to climb, topping $4 in some U.S. cities.
NEW YORK (CNNMoney) -- The nationwide average for gasoline prices approached $3.74 a gallon Thursday, continuing a steady rise for the 23rd consecutive day, according to the motorist group AAA.
The average price rose 0.7 cent a gallon in the latest 24-hour period, AAA said. A month ago, the nationwide average was $3.44 a gallon.
Gas prices are up 14% so far in 2012. The average price is down 37.6 cents, or about 9.1%, from the record high of $4.11 on July 17, 2008.
Average prices for regular gasoline top $4 a gallon in California, Alaska and Hawaii, with Hawaii's price of just above $4.35 a gallon standing as the nation's high. Prices are within a nickel of the $4 mark in New York and Connecticut, according to AAA.
The average price remains below $3.20 a gallon in Colorado and Wyoming, with Wyoming having the nation's lowest gas price at slightly above $3.17 a gallon.
Gas prices have been rising on the back of soaring oil prices, which have surged 10% over the past month amid fears that tensions with Iran will lead to an all-out war that causes a disruption in oil supplies. But despite this increase, U.S. crude oil prices continue to decline.
Signs of an improving economy have also been boosting oil prices, along with the stock market. All three major indexes hit multi-year highs this week, and the S&P 500 (SPX) has risen by more than 8% in 2012.
On Monday, TransCanada (TRP) announced that it will move forward with parts of the Keystone XL pipeline, which will boost the flow of crude oil from the oil sands of Canada to the Gulf Coast. While the White House denied a more controversial proposal earlier this year, this portion does not require federal approval and is expected to be operational in 2013.
As gas prices soar, Republican candidates are looking to tie President Obama's policies to the increase.
Earlier in the week, Rick Santorum blamed the president for blocking the expansion of domestic energy production. Santorum also argued that high gas prices were to blame for the 2008 housing meltdown and ensuing economic slump.
For full coverage on the challenges of rising gas prices, check out CNNMoney's Gas Prices section.