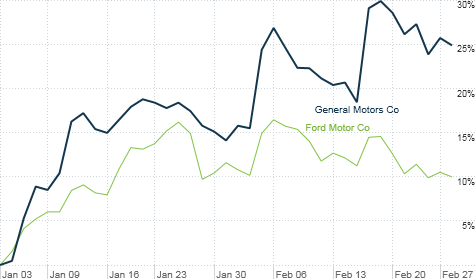 Only one person will win the Michigan GOP primary. But GM, Ford and other Detroit auto stocks are all getting votes from investors.
NEW YORK (CNNMoney) -- Michigan primary day is finally here! And you don't need millions of dollars in super PAC contributions to state the obvious about the state's auto stocks. They are all big winners so far this year.
Republican presidential contenders have made the rebound in Detroit a big campaign issue, with heated comments about whether General Motors and Chrysler and the many suppliers that depend on them really are better off after a bailout/bankruptcy in 2009.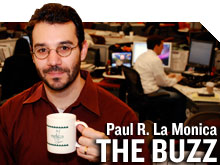 But investors are making their votes count. Shares of GM (GM, Fortune 500) are up nearly 30% this year. Ford (F, Fortune 500), the one member of the Big Three that got by without a government-forced Chapter 11, is up about 15%.
Several auto parts companies that call the Great Lakes State home are also thriving this year. BorgWarner (BWA, Fortune 500), TRW Automotive (TRW, Fortune 500), Lear (LEA, Fortune 500) and Federal Mogul (FDML) are all up sharply.
It's pretty easy to understand why the stocks are doing well. GM and Ford are reporting strong profits thanks to improving sales and a more streamlined cost structure. That's trickling down to the parts companies as well.
Still, investors may have reason to be worried. With gas prices already well above $4 a gallon in many states and moving closer to that level nationwide, auto sales could come crashing to a halt ... just like they did in the summer of 2008 when gas prices hit a record high.
Of course, a lot has changed since 2008. The economy is in better shape now than it was just before Lehman Brothers went bankrupt and financial chaos ensued.
And the automakers have also adapted to consumers' changing tastes. Ford, GM and Chrysler are all making more small, fuel efficient vehicles that won't siphon as much money from drivers' wallets at the pump.
"The larger vehicles are getting more fuel efficient so it depends on how severe the gas price spike gets. Nobody knows where the new panic point is. It may be at $4.50 a gallon," said David Whiston, an analyst with Morningstar in Chicago.
Nonetheless, a return to record-high gas prices would not be good news for any of the automakers. Sales likely would take a hit and that would probably lead to, at a minimum, lower profits if not outright losses.
"Most consumer stocks should get hurt," said Steve Dyer, an auto stock analyst with Craig-Hallum Capital in Minneapolis. "Higher gas prices may not be impacting consumer behavior much yet but after people fill up their tanks at these prices a few more times, they will notice."
Dyer added that what's most "disturbing" about the rise in gas prices is that it is taking place during the winter and that it is happening even with crude oil prices still about 20% below their record highs from 2008.
Gas prices tend to rise as more people drive during the summer. And if oil prices continue to move up due to worries about supplies in Iran, gas prices should head even higher.
Shares of the auto companies are no longer trading at lemon-like valuations either, which could make them riskier.
Ford, for example, trades at 8 times 2012 earnings forecasts. And while that may sound cheap, it deserves such a low multiple. Analysts only expect earnings to increase at a rate of about 4.5% a year, on average, for the next few years.
The suppliers are even pricier. BorgWarner trades at 15 times 2012 earnings forecasts. To put that in perspective, that's more expensive than Apple (AAPL, Fortune 500) and Google (GOOG, Fortune 500).
Dyer said that the companies that depend more on trucks, SUVs and other gas guzzlers should get hit harder if energy prices keep climbing. So he's worried most about GM and parts company American Axle and Manufacturing (AXL).
Whiston conceded that it's always better for Detroit when consumers are buying more profitable trucks as opposed to smaller cars. But he added that Ford and GM should be able to make money off of lower sales.
"Ford and GM are much leaner now than four years ago," Whiston said.
That is true. But nobody in Detroit should be happy about the return of $4 gas. While one Republican will clearly emerge from today's Michigan primary as a winner, there's a chance that all the Michigan auto stocks will be losers if this recent trend at the pump continues.
Best of StockTwits: Don't short the Shat. Domino's delivers an earnings surprise. And Eddie Lampert has a winning retailer that makes money (i.e. the anti-Sears (SHLD, Fortune 500).)
nemrut: interesting how $PCLN is able to blow away earnings w/so much exposure to weak European economy.
Very interesting indeed. I spoke about Priceline (PCLN) for my Buzz video this morning. It is stunning that its European Booking.com hotel business is thriving despite the continent's debt problems and austerity woes.
downtowntrader: the fat guy fund - pizza, burritos, wings and beer $DPZ $CMG $BWLD $FMX
Heh. Fast food and brews may not be fine dining -- or healthy. But Domino's (DPZ), Chipotle (CMG), Buffalo Wild Wings (BWLD) and Femsa (FMX) are the investing equivalent of 3-star Michelin restaurants.
retail_guru: Autoparts #retail oligopoly = rising margin; $AZO tiny commercial biz = growth; Lampert ensures cashflow goes to buybacks = winning stock.
AutoZone (AZO, Fortune 500) has been a phenomenal growth story. And it actually could benefit from higher gas prices since drivers may be more apt to stick with current cars for a lot longer.
The opinions expressed in this commentary are solely those of Paul R. La Monica. Other than Time Warner, the parent of CNNMoney, and Abbott Laboratories, La Monica does not own positions in any individual stocks.