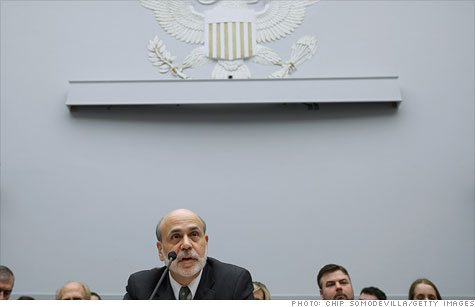 Federal Reserve Chairman Ben Bernanke gives his semi-annual report on the economy before Congress this week.
NEW YORK (CNNMoney) -- In day two of Ben Bernanke's semi-annual testimony before Congress, the Federal Reserve Chairman warned lawmakers that their short-term policies could put the recovery at risk.
"I think it is important that we keep in mind that the recovery is not yet complete, unemployment remains high, the rate of growth is modest," he told the Senate's Committee on Banking, Housing and Urban Affairs.
As he did a day earlier before the House, Bernanke stressed that January 2013 brings not only the expiration of the Bush tax cuts, the payroll tax cut and extended unemployment benefits, but also the implementation of massive spending cuts to the federal budget.
All of these issues hitting at the same time pose a significant risk to economic growth that Bernanke on Wednesday called a "fiscal cliff."
In the same testimony he gave to members of the House, Bernanke called the job market "far from normal" and referred to the recovery as "uneven and modest by historical standards."
Yet he made no comments implying the Fed would be considering a third round of asset purchases as a way to stimulate the economy.
Since the financial crisis, the Fed has slashed interest rates to zero and initiated two rounds of large-scale asset purchases, known as quantitative easing.
The Fed recently forecast that it plans to keep interest rates near zero until late 2014, and Bernanke repeated that point this week.
"I believe monetary policy is set appropriately to help the economy recover," he told the House on Wednesday.
The Federal Reserve predicts the economy will grow only 2.2% to 2.7% this year, not much faster than it grew in the second half of 2011.