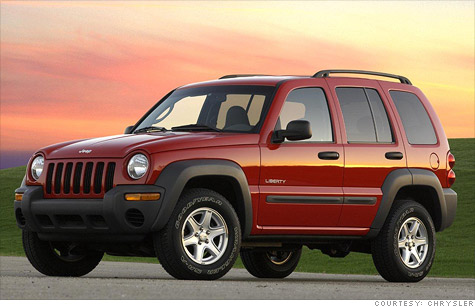 Chrysler Group is recalling some Jeep Libertys because a suspension part could crack due to salt-induced corrosion.
NEW YORK (CNNMoney) -- Chrysler Group is recalling 210,000 Jeep Libertys in northern states because road salts could cause part of the SUV's rear suspension to corrode and break.
A rear lower control arm could break after becoming weakened by rust. That, in turn, could lead to a loss of control and a crash. The lower control arm helps keep the rear suspension from moving forward and back.
The Jeeps in question are from the 2004 and 2005 model years and were manufactured between July 2003 and July 2005.
The National Highway Traffic Safety Administration had opened an investigation into the problem in April after receiving 9 reports of lower control arm fractures in Libertys. The agency's statement did not mention any injuries associated with the problem.
Chrysler itself became aware of 83 complaints, according to a report posted to NHTSA's Safercar.gov Web site.
The automaker will begin notifying the owners of affected vehicles in April. Only Liberty's in so-called "salt belt" states are involved. Owners will be instructed to take the vehicle to a Chrysler dealer so the lower control arms can be replaced.
Owners who have already had the control arms replaced will be reimbursed for the expense.