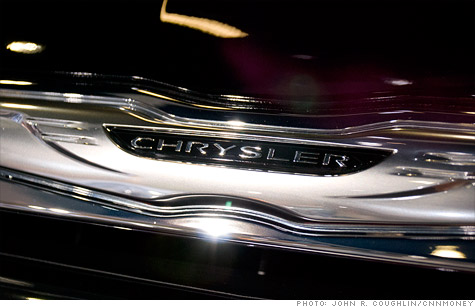 Chrysler's new certified pre-owned program will actually help dealers sell new Chryslers.
NEW YORK (CNNMoney) -- Chrysler Group has announced a new certified used car program under which the automaker will guarantee cars built by any manufacturer.
So-called certified pre-owned programs are commonplace in the auto industry, but car manufacturers usually only certify their own cars for resale. For instance, under Honda's program, someone who buys a used Honda from a Honda dealership will get warranty coverage in addition to the original manufacturer's warranty, as well as roadside assistance. Used Toyotas and Chevrolets aren't eligible for Honda's program, though.
There are some certified used car programs that can be applied to any make or model of car, but those programs are run by third-party warranty companies, not automakers themselves.
The new Chrysler program is the first to provide additional warranty coverage for used cars made by another manufacturer.
"Just because we didn't build the vehicle, doesn't mean we won't back it with a Chrysler Group warranty," said Eric Swanson, Head of Certified Pre-Owned Vehicles at Chrysler Group in an announcement. "Of course, we always want our customers to visit our dealers and purchase a new or certified pre-owned Chrysler Group model, but now we have given them another option to consider."
Certified used car programs help automakers and dealers in a number of ways. They increase used-car profits for dealers, who already make more money on used cars than on new cars. They also help increase the resale value of a manufacturer's vehicles. High resale value can make a manufacturer's new cars seem like a more attractive investment to customers.
This new program should also help Chrysler dealers sell new Chrysler Group cars by allowing them to pay more for the cars customers are trading in, said Swanson. Since dealers make more money on certified pre-owned cars, they can pass some of that profit along to new car customers.
"The dealer that offers more for the trade-in is going to make the deal," he said.
The arrangement should also keep Chrysler's used car customers coming back to the Chrysler dealership for parts and service. Maintaining that relationship increases the chances the customer will buy a Chrysler product the next time he or she is in the market for a new car, Swanson said.
Chrysler's new "Diversified Certified" program will be introduced at Chrysler's Fiat dealerships first before becoming available at other Chrysler Group dealerships later.
To be certified under the program, non-Chrysler Group vehicles will be subjected to a thorough inspection, Chrysler said. The car will also have to be newer than the 2008 model year and have less than 48,000 miles.
Vehicles that meet the criteria will get a 5-Year or 60,000-Mile warranty on all mechanical parts from the car's original date of sale, as well as towing and roadside assistance benefits.
Customers that buy certified used Chrysler vehicles will get different terms. Chrysler Group's own vehicles are eligible for a 7 year or 100,000 warranty on the engine and transmission and a warranty of 3 years or 36,000 miles on all other parts from the date the car is sold as a used car.