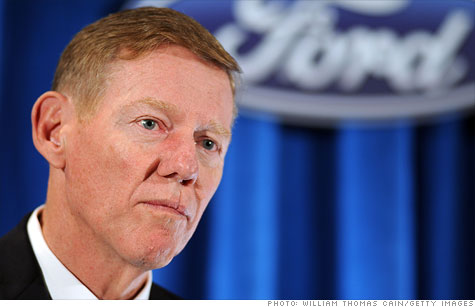 Ford CEO Alan Mulally
NEW YORK (CNNMoney) -- Ford Motor CEO Alan Mulally this week received company stock worth $36.3 million after taxes, according to company filings.
The pay comes from his receiving 2.9 million shares of stock from the company as part of his 2009 long-term compensation package, as well as just less than 2 million additional shares that were sold by the company to cover his income tax hit.
On Friday, the day before Mulally received this latest share award, Ford (F, Fortune 500) shares closed at $12.72, which is what brings the share value to $36.3 million. Ford shares have lost some ground since the grant.
"Our compensation philosophy is to align the interests of our leadership with those of our shareholders," said a statement from the automaker. "Ford's stock was $1.96 a share at the time of the 2009 awards, and is over $12 a share today. That is a more than a 500% increase, which benefits all stakeholders in the Ford turnaround."
A year ago, when Mulally received stock then worth $54.5 million, his pay package was attacked by United Auto Workers union president Bob King as "morally wrong."
"I think Alan Mulally is a great CEO, but I don't think any human being in the world deserves that much money. I think it's outrageous," he said at that time. King was traveling Wednesday and not available for comment.
Mulally is widely credited with helping to turn Ford around, putting it in position to be the only major U.S. automaker to survive 2009 without the need of either a bankruptcy filing or federal bailout. A bankruptcy would have wiped out the value of Ford shareholders, particularly the family of founder Henry Ford, the way that General Motors (GM, Fortune 500) and Chrysler Group shareholders were essentially wiped out in 2009.
Last year, Ford posted its most profitable year since 1998 and one of the most profitable in company history. Mulally's pay package for 2011 will be reported by the company later this spring.
The latest stock payment is an interesting footnote to Mulally's testimony before Congress in November 2008, along with then-GM CEO Rick Wagoner and then-Chrysler Group CEO Bob Nardelli.
Mulally was testifying in favor of his rivals' bailout, arguing that their bankruptcies would wipe out enough auto parts suppliers to possibly force Ford into bankruptcy as well. He said Ford would also need a bailout with that kind of shock to its operations.
At the hearing, Wagoner, Nardelli and Mulally were pressured by members of Congress to agree to slash their pay to $1 for that year and the upcoming year as a condition of the bailout.
Nardelli immediately agreed. Wagoner eventually agreed to the cut as well. But Mulally declined, telling the Congressional panel, "No, I think I'm OK where I am."
He obviously was correct.