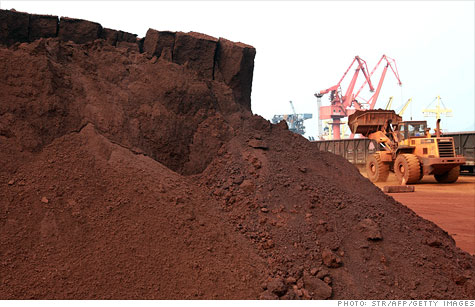 China's limits on exports of rare earths minerals Tuesday became the latest trade dispute between China and the United States.
NEW YORK (CNNMoney) -- China and the United States are the world's largest economies and, by some measures, each other's most important trading partners. But it's a rocky marriage.
A dispute over rare earth minerals came into the spotlight Tuesday, as President Obama announced that the United States, Japan and Western European countries would file a trade complaint against China.
But it's only the latest in a series of pending trade disputes between the United States and China that experts say won't be resolved any time soon. Any one of the disputes could damage the economies of both countries as well as the relationship between them.
Here's a rundown of the most important trade disputes.
Rare earths
The United States and other Western economies charge that China is putting unfair restrictions on the exports of rare earths, elements crucial to the making of numerous high-tech products, to give its own manufacturers an edge. Rare earths are also critical to national defense -- used in products from tanks and ships to radar systems and night vision goggles -- as well as green-energy products such as wind turbines and batteries for electric vehicles.
China produces about 97% of all rare earths, although one U.S. company, Molycorp (MCP), is starting production in the United States. But even when Molycorp reaches full production later this year, it will be producing only a small fraction of the output from China.
"We want our companies building those products right here in America," said Obama on Tuesday. "But to do that, American manufacturers need to have access to rare earth materials -- which China supplies." He said China's rare earth restrictions go against the World Trade Organization rules that China has agreed to.
China denies the charges, saying its rules are defensible on grounds of environmental and economic sustainability, and suggests there would be consequences if the United States presses the case.
"Past experiences have shown that policymakers in Washington should treat such issues with more prudence, because maintaining sound China-U.S. trade relations is in the fundamental interests of both sides," said China's state news agency Xinhua in a commentary Tuesday.
Currency valuation
Nothing gets more attention from U.S. politicians and other critics of China's trade policies than the value of the yuan, also known as the renminbi.
China is accused of manipulating currency markets to keep the yuan undervalued, thus making goods produced in China cheaper and more competitive on the world market. Critics say this is a major reason for the record $295.5 billion trade gap with China last year.
After years of having the yuan basically pegged to the value of the dollar, China allowed the yuan to start to rise in June 2010. But critics argue the increase has been slower than is justified, up only about 8% since then. Critics charge it is still undervalued by more than 20%.
In October, the Senate passed a bill that would have allowed steep penalties, known as tariffs, on goods from countries that manipulate their currencies, widely seen as being aimed at China.
But despite earlier support for similar measures, the bill did not get a vote in the House
Other trade disputes
Beyond the currency and rare earths issues, there are numerous additional trade disputes between the United States and China. In November, the Commerce Department announced it was investigating charges that Chinese solar cell manufacturers are illegally "dumping" their products on the American market at excessively cheap prices.
The United States is also fighting tariffs China has on U.S. chicken exports.
President Obama vowed in his State of the Union address that he would set up a "Trade Enforcement Unit" to investigate unfair trade practices -- specifically in countries like China.
A coalition of union and trade activists joined together in January to urge action against Chinese auto parts exports in order to avoid overwhelming an industry that produces more jobs than the automakers themselves.
China has also complained about some U.S. policies, such as government subsidies of the auto industry. It used that government support as justification for imposing new tariffs on U.S.-made vehicles.
But the restrictions are unlikely to have much impact on U.S. automakers, such as General Motors (GM, Fortune 500), which is No. 1 in Chinese sales, since virtually all the cars sold in China are built there as well. Less than 1% of GM's Chinese sales are from vehicles built in the United States.
Intellectual property and technology
A few years ago, intellectual property disputes with China were typically over movie or software piracy. While that remains an issue, it only scratches the surface of the bigger dispute today: China's "indigenous innovation" rules.
U.S. manufacturers who have been eager to set up operations in China to produce goods for that market say the rules unfairly require them to transfer their technology to their Chinese partners.
And while U.S. businesses in a wide variety of industry sectors, from autos to technology to financial services, are unusually vocal in complaining about this set of Chinese rules, they haven't been challenged at the WTO.
"To me, that's actually the biggest issue, more even than currency valuation," said David Joy, chief market strategist for Ameriprise Financial. "Being forced to give up technology for access to the market is essentially blackmail."