Global trade wars: China turns up the heat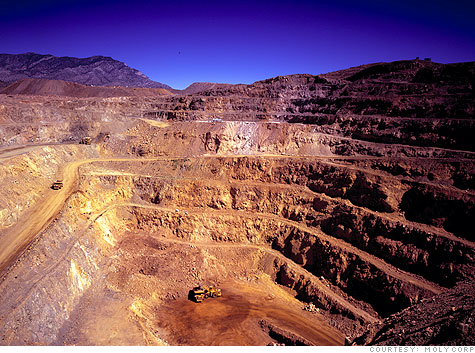 NEW YORK (CNNMoney.com) -- Forget about the value of the yuan, cheap tires or chickens.
Ground zero of a possible trade war between the United States and China may be a bunch of elements on the periodic table you've never heard of and couldn't pronounce.
U.S. officials have been pushing China to allow its currency to rise against the dollar and level the international export playing field. And last month, the U.S. imposed tariffs on Chinese tires. China responded by announcing tariffs on U.S. chickens. Now, there are some indications that China may be cutting off supplies of 17 rare earth minerals to the U.S. and Europe.
Rare earth elements are crucial to a number of high-tech products, including aircraft, electronics and magnets commonly used in computers and such clean-energy products as wind turbines and electric cars. Demand is therefore growing, at a time when China has a stranglehold over the market.
Around 97% of rare earth products produced in 2009 came from China, according to the U.S. Geological Survey. And there are some indications that the Chinese are turning off the spigot to the rest of the world too.
China was accused of cutting off exports to Japan earlier this month. Now, some industry executives say that imports to the United States appear to have halted this week.
"There's been a difficulty to get materials cleared through customs in China," said Jeff Green, an industry consultant and lobbyist who serves many customers to purchase rare earth materials from China.
While China denies the allegation that it's deliberately withholding natural resources from other countries, U.S. trade officials and the National Security Council are launching investigations into the matter.
Trade wars heating up
It's not that China is the only place in the world with the elements. The United States has enough reserves to supply global needs for almost a century at current demand levels, according to the USGS. China's reserves are barely more than a third of the estimated supplies worldwide.
But mining and processing operations around the globe were put out of business in recent decades by the lower labor and environment regulation costs in China.
"Rare earths aren't that rare. It's the ability to mine them economically that's rare," said Green.
While China denies the embargo, it did acknowledge that it's limiting exports.
"China will continue to provide rare earth to the rest of the world," the ministry of commerce said in a statement to CNN. "To protect exhaustible resources and achieve sustainable development, China will also continue to implement restrictive measures on the mining, production and export of rare earth."
China allegedly slowed shipments to Japan after a dispute between the two countries. Industry sources said shipments to the U.S. suddenly became difficult this week, following Friday's announcement that the U.S. government would investigate complaints about unfair Chinese subsidies for its clean energy industry.
Even before these international disputes, some U.S. importers were claiming China had already slashed its export quota for rare earth materials by 30%. Shipments started tightening as early as July, according to Jim Sims, spokesman for Molycorp, a company working to restart U.S. rare earth production.
Sims said it's clear that China is trying to give an edge to its domestic manufacturers of high-tech products that depend upon rare earth minerals.
"There are many reasons other than the political trade war rationale for them to be restricting the exports," said Sims. "They've been very transparent about ... discouraging exports and encouraging manufacturing in China."
If China tightens the export quotas further next year, it could shut production of some major U.S. manufacturers.
"It's hard to name a defense sector that doesn't contain these materials," said Green. "I think you'll see supply disruptions, possibly in 2011."
A report on the state-controlled Xinhua news agency in China quoted an unnamed Chinese commerce official saying reports of another drop in the export quota next year were "baseless and complete distortions."
Home-grown rare earths
Concerns about Chinese-controlled supplies of the materials and soaring prices in the face of shortages are changing the economics of the industry.
Congress is considering legislation that would provide research and development assistance, loan guarantees to companies in the industry and creation of a stockpile, among other incentives.
Molycorp (MCP) is moving to restart a California mine to produce some of the products by 2012. Sims said the company aims to mine and process 20,000 tons of rare earth minerals a year by the end of 2012.
Another company, U.S. Rare Earths, has claims to supplies of rare earth at other closed mining facilities and is working to partner with firms that will allow it to start mining as well. But it will be a slow process, even with money flowing into the sector.
"It does take money, and it takes time," said Ed Cowle, CEO of U.S. Rare Earth. "The money is hundreds of millions of dollars. And there's a lack of expertise to open these mines."
Reversing the trends that resulted in China having a near monopoly on the materials will not be easy, said Martin Hennecke, associate director at Hong Kong-based consulting firm Tyche Group.
"Other countries haven't developed the mines, because almost all of these rare metals come with elements that are radioactive or poisoning," he told CNN. "Everyone is getting them cheap and easy from China without having to do the dirty work."
-- CNN's Steven Jiang in Beijing and Eve Bower in Atlanta contributed to this report.