China trade gap narrows, easing tensions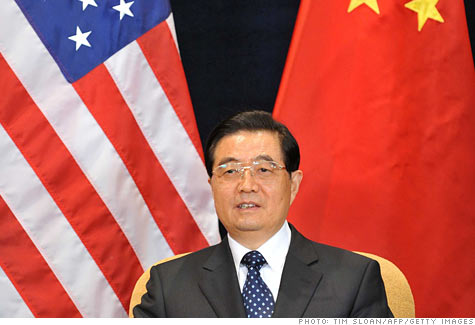 NEW YORK (CNNMoney) -- In what has become a sore point for other major world economies, China still exports far more goods and services than it imports.
But in a surprise announcement Monday, Chinese government officials said the country made further progress in narrowing that gap in December.
China's trade surplus fell to $13.1 billion last month, down from $22.9 billion in November, China's General Administration of Customs said.
"China's foreign trade is, in general, heading towards a balanced structure," the government agency said on its website.
Imports grew much stronger than expected to $141.08 billion, whereas exports fell short of forecasts, growing to $154.15 billion in December.
Over the last year, China has been trying to increase domestic demand, as it faces political pressure from the U.S. and other trade partners to rebalance the trade gap.
For the year overall, China's trade surplus fell 6.4% to $183.1 billion -- the second straight year it has narrowed.
The data eases some tensions between China and the U.S. ahead of a key meeting between President Obama and Chinese President Hu Jintao next week.
"It shows China's export growth is slowing, so it will supposedly quiet some of the calls for China to revalue the yuan against the dollar," Jennifer Lee, a senior economist with BMO Capital Markets, said.
The U.S. and others around the world have complained about the value of China's currency, the yuan, over the last year. A lower yuan, they argue, gives China an unfair advantage in global trade since it makes Chinese exports cheaper.
At the same time, China's economy is hurdling ahead at breakneck speed, while its international trading partners are still struggling to recover from the recession. Thus, China's massive trade surplus has been a major point of contention.
"Until the global economy starts picking up a lot more steam, you're always going to see some controversy between the strong and the weak," Lee said.
How long will it last?
Some economists speculate that China may not be able to continue the trend of narrowing its gap. While domestic demand has picked up in the country, imports also increased, in part, because of rising commodity prices, said Mark Williams, senior China economist with Capitol Economics.
"Import values have been inflated by the high level of commodity prices, which we do not expected to be sustained," he said in a research note. "We expect China's surplus to rebound in 2011, in part due to a commodity price fall."
While China continues to a run its trade surplus, economists expect the U.S. trade deficit fell even further in November.
Economists surveyed by Briefing.com forecast the deficit fell to $41.2 billion, down from $38.7 billion in October. The U.S. data lags a month behind China's reports, with the U.S. Commerce Department scheduled to report the figures on Thursday morning.