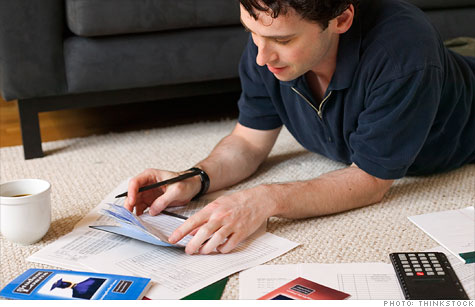 (MONEY magazine) -- For families with college-age children, the financial burden of paying for their college degree has grown sharply over the past two decades.
Our roundup of advice -- insider secrets from college counselors, administrators, and parents in the trenches -- can guide you in getting a better financial aid package. Each secret alone may be worth a few hundred to a few thousand dollars.
Negotiating a reasonable financial aid package can help you tame tuition, deal with rising room and board costs, and not be overburdened by student loans.
Financial aid: What colleges tell you
The majority of full-time students receive aid -- nearly two-thirds got grants or scholarships in 2007-08, the most recent data available. Average amount: just over $7,000. Many colleges say awards are nonnegotiable.
What they don't tell you
Colleges don't like to use the word "negotiate," but aid adjustments are not unusual, especially at private schools vying for top students.
Savings secrets
Ask the right questions. "Everyone says 'I need more money.' The key is to ask the college's financial aid officer why you got what you got," says Paula Bishop, a CPA and private financial aid counselor in Bellevue, Wash. If the college says the grant is based on your family's "need," ask what the most important financial factors were to see if there were any errors, Bishop suggests.
Financial aid applications usually don't take into account big medical bills, moving expenses, or other special circumstances. Parents who can prove they've lost a job, are supporting a relative, or have other unusual but legitimate expenses can appeal for more need-based aid.
If a school offers your child a scholarship based on grades or other academic "merits," ask about the qualifications needed to achieve the next larger award, suggests Steven Kimes, a private college finance consultant near Sacramento. Students whose academic standing is close to the next level can sometimes win an exemption, or work to achieve the larger scholarship in the remaining months of high school.
Don't be quick to say yes. Research shows that applicants who commit to one college early tend to get less aid money than those who wait and end up with acceptance offers from several schools. That's especially true for applicants vying for merit scholarships, which usually go to students a college is trying to lure away from a competitor, says Sally Rubenstone, senior adviser on Collegeconfidential.com.
Putting off a decision on which school to attend paid off handsomely for Samantha Phillips of Broadheadsville, Pa. She spent last spring debating whether to go to Lafayette College or Susquehanna University -- and let each school know that she wouldn't make her choice until all the late deadline scholarships had been awarded.
Shortly before the May 1 commitment deadline, Susquehanna came through with a $5,000 assistantship helping a professor. The lesson her father, Shawn, took away: "Don't make your decision until as late as possible."
Think beyond freshman year. Contrary to popular misconception, many private colleges give need-based assistance to students who come from families earning in the low six figures.
If your son or daughter is in the enviable position of fielding aid offers based both on financial need and academic merit, you'll need to carefully evaluate which one will prove more valuable, not just for the upcoming academic year but over the course of his or her college career, says financial aid expert Sandy Baum, a senior fellow at the George Washington University Graduate School of Education and Human Development.
Anticipating your income will rise over the next couple of years, due to a promotion or bonus, for example? Then you're better off focusing on merit based grants, since colleges will likely cut future need-based awards.
Otherwise, need-based grants, which usually rise with tuition each year, have the edge -- especially if your child will be taking a challenging course load that could make it difficult to maintain the high grades that merit scholarships may require. In Georgia and Tennessee, where students need at least a B average to renew state-sponsored HOPE scholarships, more than half of freshmen lose their stipends by sophomore year.
NEXT: Braving borrowing
Secrets to Paying for College:
For everything you need to know about what college will actually cost you and how to make it more affordable, see our College 101 guide.