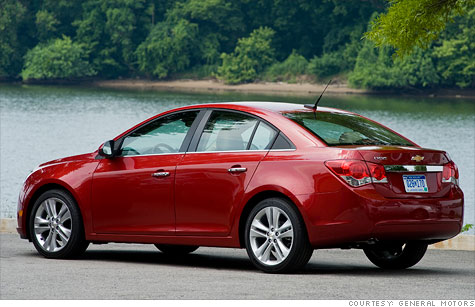 GM sold 100,000 fuel-efficient cars in March -- a company record -- with the help of its high-mileage Chevy Cruze.
NEW YORK (CNNMoney) -- Demand for fuel-efficient cars shot higher in March, as consumers sought relief from climbing gas prices.
As a result, Detroit automakers are finally winning the competition with their overseas rivals in this important part of the auto market.
General Motors said Monday that in March the company sold 100,000 cars in the United States that got 30 miles per gallon or better on the highway. That's a first for the company.
In the industry, 30 mpg is considered a fairly high level of fuel efficiency. And until recently, American automakers depended on sales of gas-guzzling trucks and SUVs.
GM (GM, Fortune 500) said that demand rose for all of its 12 models that get 30 mpg on the highway. Those high-mileage cars will make up between 40% and 45% of the company's U.S. sales, up from only 16% four years ago, when gas prices first spiked to $4 a gallon.
Complete sales figures from GM and other automakers will be reported Tuesday.
Sales tracker TrueCar estimates that GM sold slightly more high-mileage cars in March than did rivals Toyota Motor (TM) and Korean automaker Hyundai/Kia, and that it barely trailed the high-mileage sales totals of Honda Motor (HMC).
Overall, TrueCar forecasts that 30-mpg cars will make up 48.3% of industrywide U.S. sales in March, up from just over 20% four years ago.
Ford Motor (F, Fortune 500) hasn't yet broken out how many fuel-efficient cars it sold last month. TrueCar estimates that 36% of Ford's March sales were cars that got 30 mpg or better, up from 10.8% four year ago.
Even Chrysler Group, the U.S. automaker most reliant on trucks, has seen strong sales from its handful of 30-mpg cars. TrueCar estimates that those models accounted for 16% of its sales; four years ago, Chrysler didn't offer any.
And those high-mileage sales at Chrysler are coming before the automaker starts production of its high-mileage Dodge Dart. The Dart is expected to hit showrooms in June.
While Detroit automakers are gaining market share in this segment, Toyota and Honda could end up being big losers, said TrueCar analyst Jesse Toprak.
"About half the share Toyota and Honda lost last year is probably more or less permanent losses that'll be difficult to recoup," Toprak said.
Detroit automakers' new competitiveness in this segment is important given higher federal mileage regulations on the horizon. The rules could demand that cars and light trucks average as much as 54.5 mpg by the 2025 model year.
"While we're celebrating 30-mpg achievement, as we move forward, 40 mpg is going to become the new 30," said Jim Cain, spokesman for GM.
Overall, auto sales have been particularly robust in 2012, leading some forecasters to raise the sales targets to close to 15 million vehicles this year, up from only 12.8 million last year.
"After delaying purchases over the last couple of years, consumers are eager to jump into the new car market," said Jessica Caldwell, senior analyst at Edmunds.com.