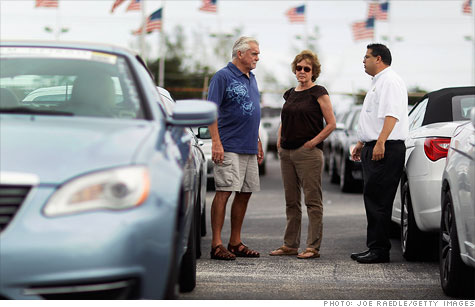 Car sales jumped in March, led by a 34% gain at Chrysler Group.
NEW YORK (CNNMoney) -- The Big Three U.S. automakers all reported strong March sales, as buyers flocked to dealerships in numbers not seen in years to buy everything from fuel-efficient small cars to large pickups.
Industrywide U.S. sales rose 12.7%, according to sales tracker Autodata, capping the best quarter for auto sales in the United States since the first quarter of 2008, before the combination of a gas price spike and the meltdown in financial markets later that year devastated sales and nearly led to the end of the U.S. auto industry.
U.S. sales hit a seasonally-adjusted annual rate of 14.4 million vehicles for the month, the third straight month the pace of sales has topped 14 million. The only month to reach that mark from mid-2008 through the end of last year was in August 2009, when sales spiked due to the "Cash for Clunkers" program.
The strong start to the year has led some analysts to raise their sales targets to nearly 15 million vehicles for 2012, up from 12.8 million last year. That's a much faster rebound to that benchmark than analysts anticipated even as recently as last year.
Even those making more cautious forecasts, such as full-year sales of 14.5 million, have raised their estimates substantially in recent weeks.
The strong sales came even as gas prices rose steadily throughout February and March, with a gallon of gas at nearly $4 by the end of last month, a record high for the time of year.
Typically overall auto sales are hurt by gas price spikes, as the drop in demand for less fuel-efficient models outweighs any gains in high-mileage vehicles. But that has not been the case with the current run-up at the pump. While industrywide car sales rose 16%, truck sales also climbed 9%, according to Autodata.
"The combination of credit availability, an improving economy, pent-up demand and even high fuel prices encouraging people to acquire newer, more fuel-efficient vehicles are all helping to drive industry sales," said Reid Bigland, head of U.S. sales for Chrysler Group, which includes the Chrysler, Dodge, Jeep, Ram and Fiat brands.
Jesse Toprak, an analyst with sales tracker TrueCar, said that greater availability of credit is one of the quiet factors driving the strong sales.
But he said one other key factor is the rally in the stock market. Even if buyers aren't cashing out stock to sell cars, the recent rally in markets has given buyers a "green light" to go make a big ticket purchase once again after years of putting off purchases.
It wasn't just the U.S. automakers reporting strong sales. Nissan (NSANY) reported the best U.S. sales month in its history, as did Korean automaker Hyundai Motor Co., which operates under the Hyundai and Kia brands here. Toyota Motor (TM) reported the best March sales since 2008 with a 15.4% rise in sales.
The only major automaker to report a drop in sales was Honda Motor (HMC), where sales fell 5%.
The strong demand allowed automakers to get top dollar for the cars they were selling, as TrueCar estimates that lower cash-back offers and other incentives to buyers led to the highest average transaction price on record, an industrywide average of $30,748.
Part of the strong sales for the Detroit automakers came from the fact that they have much stronger offerings in the small car segment of the market than they previously did.
"The economic recovery and a deep bench of fuel-efficient cars and crossovers have been driving our sales for more than a year, but the combined impact has never been stronger than it was in March," said Don Johnson, vice president, U.S. sales operations for GM.
GM (GM, Fortune 500) sold more than 100,000 cars which got 30 miles per gallon or better in the United States for the first time in company history. Overall, sales rose 14.2% in March from year-earlier levels.
"Since the last time fuel prices spiked, both the economy and GM's product portfolio are undeniably stronger," said Johnson.
Chrysler reported its best month in four years, selling 163,381 cars and trucks in the month, up 34% from a year earlier, and its best results since March 2008. Sales were roughly in line with analyst forecasts for the company.
Chrysler, which four years ago had no models that got 30 miles per gallon or more on the highway, now has six models that top that fuel -efficiency benchmark. Those six models accounted for 29% of its March sales. And that's before what is expected to be its hottest-selling fuel-efficient model, the Dodge Dart, reaches dealers in June.
But customers also flocked to less efficient models such as the Ram pick-up truck, the Grand Cherokee SUV and the Town & Country minivan.
Ford (F, Fortune 500) reported a much more modest 5% gain in sales, but it was enough to give the company its best March sales total since 2007.
Ford's gains could be attributed to a single model -- the compact Focus, which had sales soar 67% over year-earlier levels. The rest of Ford's portfolio had sales little changed from a year ago.
But Ford's comparisons were to a very strong year-earlier period, when its sales actually led overall U.S. sales for the first time in nearly 13 years.