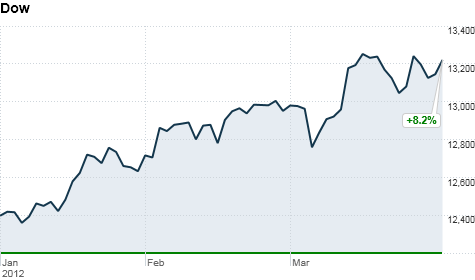 Click for more market data.
NEW YORK (CNNMoney) -- U.S. stocks closed mixed Friday, with the Dow and S&P 500 ending their best first quarter in over a decade, as investors weighed a report on consumer spending and a boost in the eurozone bailout fund.
The Dow Jones industrial average (INDU) gained 66 points, or 0.5%, to end at 13,212. The S&P 500 (SPX) added 5 points, or 0.4%, to 1.408. The Nasdaq (COMP) edged down 4 points, or 0.1%, to 3,090.
Friday's gains capped a stellar three months for stocks, with the Dow and S&P posting the biggest first-quarter gain since 1998. Despite Friday's decline, the Nasdaq had its best first quarter since 1991, according to the Stock Trader's Almanac.
For the quarter, the Dow gained 8.1%, the S&P 500 advanced 12% and the Nasdaq rose a whopping 19% since New Year's Day.
The Dow and S&P 500 are at their highest levels since 2008, while the Nasdaq is at its highest point since 2000.
The gains were driven by improving economic data in the United States and easing concerns about the debt crisis in Europe. Stocks have also been supported by expectations the Federal Reserve will continue to support the economy.
"That's been enough to put the risk back on in the first part of this year versus last year," said Peter Tuz, a portfolio manager at Chase Investment Counsel in Charlottesville, Va.
On Friday, stocks opened higher as investors focused on personal spending data and news that eurozone finance officials agreed to raise their financial firewall to €700 billion.
But the market wavered as the morning progressed, with shares of Apple weighing on the Nasdaq, said Ben Schwartz, chief market strategist at Lightspeed Financial.
Apple (AAPL, Fortune 500) has had an outsize impact on the market this quarter. The stock has driven roughly 15% of the S&P 500's performance so far this year, according to Barclays Capital.
Other top performers this quarter include Sears Holdings (SHLD, Fortune 500), Bank of America (BAC, Fortune 500) and Netflix (NFLX). The main laggards were Apollo Group, (APOL, Fortune 500) Supervalue (SVU, Fortune 500) and FirstSolar (FSLR).
Schwartz said the market is becoming more volatile as investors gear up for corporate reports due out later next month. But he suggested that stocks could find some support as the recent rally draws so-called retail investors off the sidelines.
"You're starting to see the market move a bit," he said. "But we're waiting for more volume to come in to support the rally we had over last three months."
Meanwhile, traders said institutional investors have been making big moves recently as they rebalance portfolios ahead of quarterly statements to clients.
"Hedge fund and mutual fund managers have used the last two weeks to get their portfolios competitive," said Quincy Krosby, market strategist with Prudential Financial in Newark, N.J. "This is a quarter in which you did not want to be lagging the market performance."
U.S. stocks bounced around Thursday and ended little changed. Both the S&P 500 and the Nasdaq closed in the red for the third straight day, while the Dow broke a two-day losing streak.
Economy: A report released before the opening bell showed that personal spending increased 0.8% in February, topping analyst predictions of a 0.6% jump.
Meanwhile, personal income grew by 0.2%, less than the 0.3% predicted rate.
The Chicago Purchasing Managers' Index for March fell to 62.2, down from 64 in February and below expectations of 63. Any reading above 50 indicates expansion.
The March edition of the University of Michigan Consumer Sentiment Index rose to 76.2, from 74.3 in February. Analysts were expecting the index to remain flat.
Companies: Shares of Apple were slightly lower a day after a heavily anticipated report on working conditions at supplier Foxconn's China facilities was released. The report documents dozens of major labor-rights violations, including excessive overtime, unpaid wages and salaries that aren't enough to cover basic living expenses.
Shares of credit card payment processor Global Payments (GPN) fell 9% after the company disclosed a major data breach that could involve more than 10 million card numbers.
Representatives from MasterCard (MA, Fortune 500) and Visa (V, Fortune 500) confirmed that a breach has potentially compromised credit and debit card information from all of the major card brands.
On Friday, retailer Finish Line (FINL) said it earned 81 cents per share last quarter -- a number in line with analyst estimates. The company reported better-than-expected revenue, but shares tumbled.
Research in Motion (RIMM) shares were higher even after the BlackBerry-maker missed expectations on revenues and earnings. The company said it's considering strategic alternatives, and one director left its board.

World markets: European stocks ended modestly higher. Britain's FTSE 100 (UKX) increased 0.4%, the DAX (DAX) in Germany rose 0.6% and France's CAC 40 (CAC40) gained 0.7%.
Eurozone finance ministers agreed to increase the size of the region's capacity for crisis lending to €700 billion.
Asian markets ended mixed. The Shanghai Composite (SHCOMP) added 0.5%, while the Hang Seng (HSI) in Hong Kong and Japan's Nikkei (N225) dropped 0.3%.
Currencies and commodities: The dollar lost ground against the euro, the British pound and the Japanese yen.
Oil for May delivery added 24 cents to settle at $103.02 per a barrel.
Gold futures for April delivery rose $17.10 to end the day at $1,669.30 an ounce.
Bonds: The price on the benchmark 10-year U.S. Treasury dropped, pushing the yield up to 2.17% from 2.16% late Thursday.