Ford sales top GM for first time in over a decade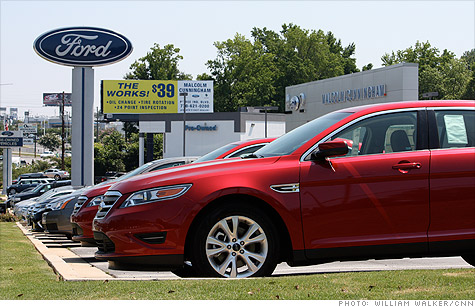 NEW YORK (CNNMoney) -- Ford Motor Co. topped rival General Motors in U.S. sales in March, grabbing the No. 1 spot for the first time in nearly 13 years.
Ford (F, Fortune 500) sales rose 19% from a year ago to 212,777 vehicles, while GM (GM) posted a 10% rise to 206,621. It is the first time since a strike shutdown GM production in July and August of 1998 that Ford has been able to move ahead of GM.
Executives at both GM and Ford declined to comment on the change in position.
"I don't think we've been all that interested in sales races," said George Pipas, Ford's director of sales analysis.
Jessica Caldwell, senior analyst with Edmunds.com, said Ford's sales were helped by increased incentives that attracted buyers. But she said the company also benefited from a lineup of fuel efficient models as gas prices topped $3.60 a gallon during the month.
"Having strong entries in subcompact, compact, and small SUV really helps when gas prices soar," she said.
GM experienced strong sales for some of its fuel efficient cars too though. Sales of its new compact Cruze were up nearly 80% from the old compact Cobalt model it replaced.
In February, GM offered attractive incentives that expired in March. Jesse Toprak, analyst for sales tracker TrueCar, said that probably caused some of its normal March sales to be pulled forward into the prior month, opening the door for Ford.
Toprak said Ford probably won't stay in the No. 1 position all year, but the two companies could play leap frog for a while.
"I don't think it is the new norm, but what we're going to see is GM will have the No. 1 spot more often, while Ford is close to them and there will probably be two or three months a year where it's on top," he said.
Ford has been posting strong sales for the past several years, and is catching up to GM in U.S. market share. According to sales tracker Autodata, Ford captured 16.7% of the U.S. market in 2010, up 1.2 percentage points, while GM's share slipped to 19.1% from 19.8%.
Toprak said the idea of Ford being that close to GM was unthinkable only a few years ago, and that the result shows just how much progress Ford has made.
But there was good news for the GM, Toprak said. The company didn't go too crazy with incentives or low-priced fleet sales in order to hang onto the top spot, as it might have in the past.
"GM has learned the lesson of not going blindly after market share and instead going after profit, which is ultimately what determines if a company is successful," he said.
The other Detroit automaker, Chrysler Group, reported a 31% jump in sales, much stronger than forecasts of increase between 13% to 19%. That moved it just ahead of Nissan as the No. 5 automaker in terms of March sales.
Overall industrywide sales rose 17% compared to a year earlier, according to sales tracker Autodata, a bit stronger than most forecasts. The seasonally-adjusted sales pace in March would work out to full-year sales of just over 13 million vehicles if extended throughout the year, well ahead of the 11.6 million vehicles sold in 2010.
Little sales impact from Japanese quake
While there was modest supply and production disruptions for the auto industry due to the earthquake in Japan, there was virtually no impact in the March sales numbers, even among the Japanese brands. Toprak said April sales could be a different stories if automakers start to run low on some models.
Toyota Motor (TM) reported a 6% drop in sales in March, a bit worse than forecast, but its two main Japanese rivals, Honda Motor (HMC) and Nissan, both reported strong sales, with Nissan topping forecasts to report its best U.S. sales month ever.
While all three major Japanese manufacturers make most of the cars they sell in the U.S. market at North American plants, they depend more heavily than their U.S. rivals on Japanese parts.
Honda acknowledged its sales in future months could be impacted by supply chain problems, and Nissan announced Friday that five North American plants will halt production six days in April due to the supply of parts.
But one U.S. Nissan plant in Decherd, TN, will start shipping engines to assembly lines in Japan that previously got engines from a damaged plant only an hour from the crippled nuclear power plant. It's the first time Nissan has ever exported U.S. engines back to Japan.
The Detroit automakers won't be spared their own problems caused by the Japanese disaster -- GM already had a brief shutdown at a Shreveport, La., plant, and Ford and Chrysler have limited what color buyers can order on some models.