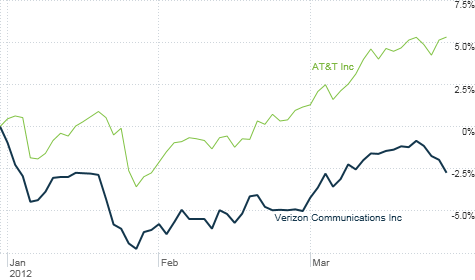 Although Verizon's stock had a strong 2011, it has lagged the market -- and its top rival -- so far this year.
NEW YORK (CNNMoney) -- Ben Bernanke might as well have sent a text to investors Monday that said: "OMG. Fed and QE are BFF!" Stocks surged on the hopes of more easing in the future. But maybe Verizon didn't get Bernanke's message?
Verizon (VZ, Fortune 500) was the only member of the Dow Jones industrial average to finish Monday in the red.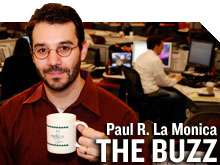 It would be one thing if this was a one-day occurrence, but Verizon has been a market laggard all year.
Shares are down nearly 3%, while the Dow (INDU) is up more than 8%. Only McDonald's (MCD, Fortune 500) and Hewlett-Packard (HPQ, Fortune 500) have done worse in 2012.
Verizon rival and former sibling (or is it parent? That whole Baby Bell break-up and remarriage thing is like something out of a Univision telenovela) AT&T (T, Fortune 500) has underperformed the market too. But Ma Bell is at least up nearly 6% this year.
To be fair to Verizon, its issues seem more like McDonald's than Hewlett-Packard's. HP was a big loser last year and continues to struggle in 2012 as investors question its long-term strategy.
McDonald's and Verizon were both top performers in the Dow in 2011, and they may be cooling off a bit as investors embrace stocks that have more exciting growth potential.
"High-dividend stocks may not be as attractive with investors right now looking at risk again in this bull market," said Joe Bonner, an analyst with Argus Research in New York. "But Verizon is still doing well."
Verizon, despite its label as a slow-growth carrier, is expected to post some pretty impressive financial results. Analysts expect earnings per share to increase 15% this year and another 12% in 2013.
That's much better than the projected earnings growth rate of 7% for AT&T in 2012 and 8% next year. Verizon's revenues are forecast to rise at a slightly higher clip than AT&T's as well.
If you want to nitpick, you could point out that Verizon's dividend isn't as sexy as AT&T's. Verizon's yield is only 5.1%, compared to 5.6% for AT&T. Of course, those are both impressive yields. That helps mitigate the lackluster stock performance.
Verizon is also a more expensive stock than Ma Bell. Verizon trades at about 16 times 2012 earnings forecasts, while AT&T is valued at 13.5 times this year's estimated profits.
The fact that Verizon is growing faster justifies a premium. But is Verizon, despite this year's weak performance, still a bit too frothy?
It looks that way. There are legitimate reasons to wonder if Verizon can bounce back later this year. You can make the case that last year's rally was partly because Verizon finally started selling Apple's (AAPL, Fortune 500) iPhone.
However, as my colleague David Goldman has pointed out on numerous occasions, the rewards from having the iPhone come at a price: much lower profit margins. In addition, Verizon is now one of four carriers with the iPhone. Sprint (S, Fortune 500) and tiny regional carrier C Spire also sell it.
So the iPhone is no longer that distinctive of a marketing advantage -- unless you just want to pour more salt on the gaping wound that is T-Mobile.
While Verizon has made admirable strides in shedding dying assets, the company still is, at the end of the day, a slow-growth company.
No amount of flashy commercials touting Verizon's FiOS video service, hot new phones and tablets or its 4G LTE network can mask the fact that revenues are likely to increase at a snail's pace.
Remember how I said that Verizon's sales were growing at a higher rate than AT&T's? That's sort of faint praise. Verizon's revenues are expected to increase only 4% this year and 3% in 2013.
Bonner said that perhaps the biggest risk for Verizon -- and the telecom carriers in general -- is the looming spectrum crunch as consumers gobble up more wireless capacity on their smartphones with YouTube videos and data-hogging apps.
"Spectrum constraints are a major challenge for Verizon and other wireless companies going forward. This is a real issue," he said.
Considering that the solution to that problem will require Verizon and others to spend billions of dollars on upgrading their networks, it's understandable that investors are leery of Verizon's stock.
Best of StockTwits: It's a mistake to make a blanket call on an entire sector -- even with home builders. And investors are inexplicably giving rave reviews to Yelp (YELP), which surged 7% Tuesday is now up 75% from its IPO price.
stephanie_link: nice beat at $LEN - new orders up 33%, backlog up 39%, revenues up 30%. a much different story than$KBH from last week.
KenShreve: Don't tell $LEN about a weak housing market ... also like $DHI in the space.
Lennar (LEN) posted solid results Tuesday morning and its stock was the top gainer in the S&P 500. The numbers were much better than KB Home's (KBH) big loss last week. Other builders like D.R. Horton (DHI, Fortune 500) rallied too Tuesday.
I'm still a little nervous that the housing recovery talk is -- once again -- premature. But investors can usually still find winning stocks even in losing sectors.
techinsidr: Wow... watching $YELP is like watching the Titanic leaving the harbor and heading towards the atlantic #thiswontendwell
Prospectus: HA! I'm starting a kickstarter to go short $YELP for everybody, so donate now
Yelp hasn't yet scheduled its first "earnings" report following the IPO. That will be a fun one to watch. Yelp lost nearly $17 million in 2011. I am mystified about why the stock has done this well.
Anyway, here's a date that investors must pay attention to: August 29. That's when the lock-up period for insider sales expires, and we'll get to see who the Dukes and Duchesses of secondary offerings are.
The opinions expressed in this commentary are solely those of Paul R. La Monica. Other than Time Warner, the parent of CNNMoney, and Abbott Laboratories, La Monica does not own positions in any individual stocks.