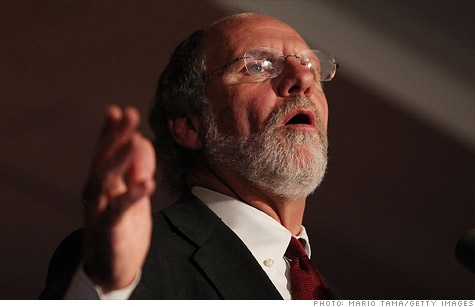 Former MF Global CEO Jon Corzine could be one of the former officers who faces civil liability for missing client funds at the firm.
NEW YORK (CNNMoney) -- The trustee overseeing the liquidation of bankrupt brokerage firm MF Global says unnamed former officers, executives and directors of the firm could be on the hook personally for at least some of the $1.6 billion in missing client funds.
James Giddens, the trustee, did not name who he might seek funds from in the future. But a person familiar with the trustee's probe said Jon Corzine, a former U.S. senator and New Jersey governor who was CEO of MF Global when it collapsed, is among those against whom Giddens might considering action.
Giddens appeared before a federal bankruptcy court in New York on Thursday for an update of his probe. He said believes company officials committed a breach of their fiduciary duties to the brokerage firm, its holding company and its customers.
Giddens also believes there was a violation of federal law requiring that client funds be segregated from the firm's operating capital.
The trustee also said he is working with attorneys who represent former MF clients suing to recover funds to see if he and those lawyers can work together to pursue various claims.
The missing client funds have been the focus of various investigations ever since the firm's Oct. 31 bankruptcy. Besides Giddens, other probes are being conducted by Congressional investigators and the FBI.
Thursday's update did not spell out how much of the missing $1.6 billion in client funds Giddens will seek to recover. But the report was seen as an indication that trustee will actively seek to recover the missing funds from responsible individuals in the firm.
Corzine has denied knowing whether or not customer money was used to cover shortfalls in MF Global's trading accounts in its final days.