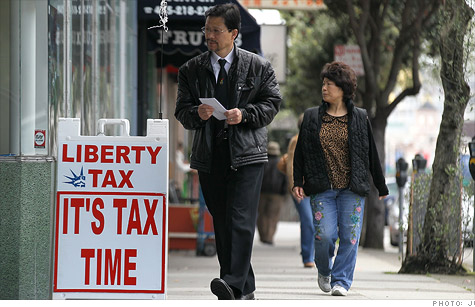 NEW YORK (CNNMoney) -- Tax Day is drawing near, but you still have a little time left to get your return filed to Uncle Sam.
While the tax filing deadline typically falls on April 15, this year taxes are due Tuesday, April 17.
The extra break was granted because April 15 is a Sunday this year, and Monday is Emancipation Day, a holiday in Washington D.C. that celebrates the freeing of slaves in the district. Under the tax code, filing deadlines can't fall on Saturdays, Sundays or holidays.
Last year, Tax Day was extended until April 18, also thanks to Emancipation Day.
The IRS said earlier this year that it expects to receive more than 144 million individual tax returns this season, with the majority projected to be submitted by the new April 17 deadline. As of the first week of April, the IRS had already received 99 million returns and had doled out refunds to 80 million taxpayers -- with refunds averaging $2,794.
If you still can't get your taxes completed on time, you can always file for a six-month extension by submitting Form 4868. Or you can even do it on your smartphone by using Taxsoftware.com's Form 4868 Extension app.
If you don't owe any taxes, then you won't be hit with late penalties for failing to file on time. Just be absolutely certain that you don't owe the IRS money -- if your calculations are wrong, the IRS will come after you. If you do end up owing taxes, the penalty for filing late is 5% of the amount owed for each month that you fail to file, up to a maximum of 25% (which would be reached after five months).
Also, when rushing to meet the tax deadline be careful about how fast you drive to the post office -- or to the nearest tax preparer. Your odds of getting into a fatal car crash jump by 6% on tax filing day, according to a study published in the Journal of the American Medical Association.