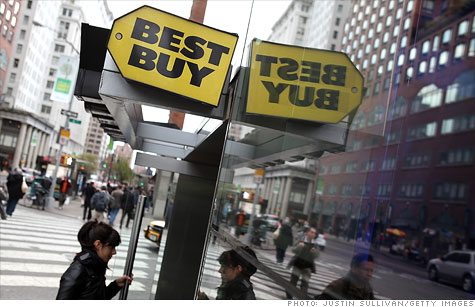 Best Buy has unveiled its list of 50 stores slated for closure by the end of the year.
NEW YORK (CNNMoney) -- The electronics retailer Best Buy has unveiled the locations of the 50 stores it plans to close by the end of the year.
Best Buy first announced the closures on March 29, when it reported its quarterly earnings, but did not specify where they were located.
The company has struggled to compete in a market that has become increasingly dominated by online retailers like Amazon (AMZN, Fortune 500).
Going forward, Best Buy projects savings of $250 million in fiscal year 2013 as a result of the store closures, and plans to save $800 million in costs by fiscal year 2015.
The store closings have already begun. Best Buy (BBY, Fortune 500) has closed one store in Kansas City, Mo., and another in Scottsdale, Ariz., as of February.
Of the 48 remaining stores that are slated for closure, the retailer has targeted another two in Arizona and another one in Missouri.
The hardest hit state is California, with seven stores on the chopping block.
Illinois and Minnesota are close behind, with each state slated to lose a half-dozen stores. In Minnesota, five of those store closures are in the Twin Cities area of St. Paul and Minneapolis.
In all, Best Buy is shuttering stores in 21 states and Puerto Rico.(See full list of store closings)
A spokeswoman for the retail chain would not say how many employees are being laid off as a result of the culling of brick-and-mortar locations.
"Because we are working to help affected employees find new positions, we are not disclosing any numbers at this time, local or national," said Best Buy spokeswoman Kelly Groehler.
The closures represent a sliver of Best Buy's overall presence, with 1,105 stores in the U.S., not counting the stores slated for shuttering.