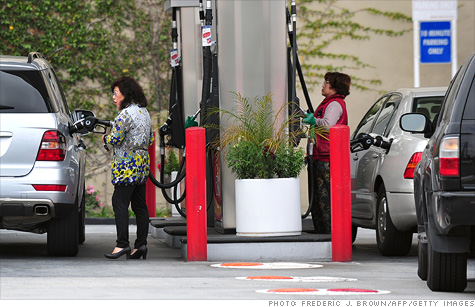 NEW YORK (CNNMoney) -- Consumers got some relief last month, as rising prices at the pump began to slow.
The U.S. Consumer Price Index, a key measure of inflation, increased 2.7% over the past 12 months ending in March, down from 2.9% in February, the Bureau of Labor Statistics said Friday.
On a monthly basis, CPI rose 0.3% in March, in line with expectations and up from 0.4% the previous month.
Once again, consumers were hit hardest by rising prices at the gas pump. Gasoline prices surged 1.7% in March.
But that's down significantly from a 6% rate in February.
While gas prices are still rising, they are "seemingly more stable" said Mark Luschini, chief investment strategist for Janney Montgomery Scott. "Gasoline consumption has gone down," he added. "It doesn't pinch the consumer in quite the same way."
Tensions with Iran had been driving the price of oil and gasoline higher over the past few months. In a recent CNNMoney survey, economists identified the oil spike as the single biggest challenge facing the nation's economic recovery.
But just recently prices at the pump have begun to pull back. Retail gas prices fell more than half a cent Friday to a nationwide average just above $3.90 a gallon, according to AAA.
Stripping out volatile food and energy prices, inflation on all other consumer goods picked up in March. The so-called core CPI rose 2.3% year-over-year, up from 2.2% in February.
During the month, core CPI rose 0.2%, up from 0.1% in February, matching economists' expectations.