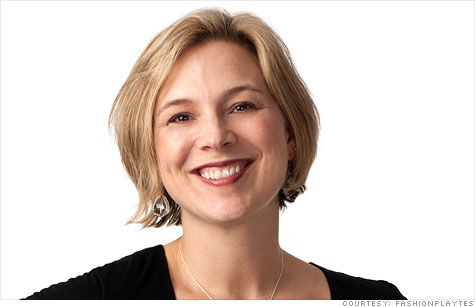 Sarah McIlroy started website FashionPlaytes that helps tween girls design their own clothes.
NEW YORK (CNNMoney) -- When Sarah McIlroy's oldest daughter turned five, she asked if she could design her own clothes.
McIlroy liked the idea, but there was one problem: She lacked the time to help her and the skill to stitch the clothes up.
So she found a way for moms and daughters everywhere to get their designs made into real clothing.
Armed with a gaming background from Atari, which included working with Hasbro Interactive, McIlroy co-founded FashionPlaytes (www.fashionplaytes.com) in Beverly, Mass., in 2009, giving tween girls online tools to create one-of-a-kind clothing.
She had learned from her Hasbro experience that the market for tween girls -- ages five to 12 -- is lucrative.
At FashionPlaytes, most garments cost under $30, although some can run up to $60. Girls choose from 13 silhouettes, ranging from long-sleeve shirts to shorts-and-tank sets. They select a size, and deck their creations out with rhinestones and other adornments. Base garments are produced overseas and then customized at a factory in a Boston suburb.
"It's close enough that we can get right over there if need be," said McIlroy.
Last autumn, FashionPlaytes crossed over the $1 million in revenues mark. "We're delighted about making the million-dollar mark. The feedback we get from girls and moms is phenomenal," said McIlroy. "We like to think we're on the cusp of something big."
McIlroy's mission is to build the website into a big lifestyle brand. She wants to see the company hit the hundred-million-dollar mark someday.
About 800,000 designs have been created through FashionPlaytes -- 200,000 within the last two weeks. To date, 50,000 tween designers have used the site.
Indeed, the tween population is growing, and they are spending a lot of time online, experts said.
According to a study done by The NPD Group, a consumer market-research firm, 73 percent of girls ages six to eight go online an average of three hours per week while 92 percent of girls ages nine to 12 go online an average of five hours per week.
"Obviously, age does play a factor in how many -- and for how long -- go online," said Anita Frazier, an industry analyst with The NPD Group. "In 2011, 7 percent of purchasing on behalf of girls ages five to 12 was done via a website."
Massachusetts resident Heidi Vaughan's eight-year-old daughter has used FashionPlaytes many times and spends about 45 to 60 minutes creating an outfit. "My daughter wore one of her dresses recently, and her friends were all asking where she got it," she said. "When she told them she made it, they thought that was the coolest thing." Vaughan said her daughter also creates matching outfits for her Build-A-Bear.
"The average time on the site is an hour for repeat users," said McIlroy.
McIlroy's largest challenge was getting potential partners to believe she could turn a profit while still selling the clothes at affordable prices. She interviewed 50 factories. "A lot of folks would say, 'You're a crazy lady. There's no way you can do it at this price point," recalled McIlroy.
She eventually was able to partner with a factory.
To start the company, McIlroy threw in $20,000 of her own money. "For the first nine months it was really a bootstrap operation," she said. And in March 2009, she got her first round of venture capital. The additional money allowed FashionPlaytes to create proprietary, custom software and bring her tech team in-house last year, as well as add marketing and gaming departments. There are now 18 full-time employees.
In November, the company partnered with Hasbro to create a Littlest Pet Shop clothing line, its first foray into integrated licensing.
Last year, FashionPlaytes added gaming aspects to the site, including the ability to pick an avatar and create a stylebook to e-mail out to family and friends. The girls can also vote on each other's designs.
Juggling family time -- she has two daughters and a son -- with her company is exhausting, she said. "Having the opportunity to work with my kids on the business helps that guilt factor," she said.