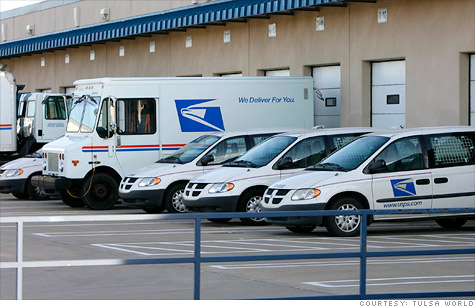 This Tulsa mail-sorting center could go away soon. If it does, some small business owners say that will hurt them.
NEW YORK (CNNMoney) -- The potential of 250 U.S. postal offices and distribution centers closing next month is spreading jitters among the nation's small business hubs.
On May 15, unless Congress steps in, the Postal Service will proceed on its plans to make these cuts in a bid to consolidate and save money.
Owners of small companies in cities like Tulsa, Okla., fear that their businesses will suffer if their local mail-processing and distribution centers are shut down.
Some areas have already faced closures in the past year, and small firms there are going through a difficult adjustment.
The more than 100-year-old post office in the beach town of Pass-a-Grille, Fla., closed last June.
As a popular tourist destination, Pass-a-Grille has a bustling small business community, with many stores lining either side of its 8th Avenue main street, designated as the shortest main street in America.
But when its post office closed, it caused problems for some of its small businesses. That's because the next closest post office in the area is about four miles away.
"The other post office is always crowded," said Barbara Calicotte, an employee at a boutique called Bamboozle, which was right next door to the now closed post office. "I've had to wait on line for 30 minutes."
Another problem is that sometimes packages have to sit in the store a day or two longer, because the boutique does not have an extra employee to run to the post office, Calicotte explained. She said she can't do it because she would have to close the store, which could mean lost sales.
Heather Preston, who manages her father's high-end jewelry store Evander Preston, has the same problem. Losing the post office has been "extremely inconvenient," she said.
Preston is the primary salesperson, and also does the mail runs. She now has to find someone to watch the store while she goes to the "overcrowded" post office. Since Preston is the only one who works the register, this means a potential customer could be waiting an hour or so until she returns. "I may possibly lose a sale because of it," she said.
In Huntsville, Ala., small business owners are nervous about their local USPS mail-processing and distribution center shutting down completely next month. USPS had already decided last year to phase out operations at that facility, separate from the 250 currently under evaluation, as part of its ongoing effort to shrink costs.
As a result, all outgoing mail generated in Huntsville for delivery to local zip codes is already going more than 100 miles away to a mail-processing center in Birmingham and then returning to Huntsville, said Sue Brennan, a USPS spokeswoman.
"Time is money for small businesses, especially in this economy," said Mayor Tommy Battle, a former businessman.
"A mail delay of three or four days could mean lost sales," he said. "So many small businesses today still aren't tech savvy and depend on direct mail to market their products and services."
Brennan said there could be changes in mail delivery, but couldn't say definitively what they could be.
Tulsa, Okla., is in a similar predicament as Huntsville. Business owners and city officials are fighting to prevent their local USPS mail-sorting center from relocating 100 miles away to Oklahoma City.
Tulsa is a buzzing hub, boasting 41,000 small businesses, half of which employ fewer than 10 workers.
One of those businesses belongs to Forrester Cameron, CEO & publisher of Greater Tulsa Reporter Newspapers, who is worried that the closure of the local mail-processing plant will hurt his company.
Greater Tulsa Reporter Newspapers prints and distributes 37,500 papers monthly in the Tulsa metro area. If the local center closes, subscribers who get their papers in the mail will get them a day or two late, said Cameron. Payments to the business will be delayed as well, he added.
The problem is that all mail coming from Tulsa for delivery to local Tulsa zip codes will go first to Oklahoma City for sorting and then back to Tulsa for delivery, according to USPS.
"It doesn't make sense," said Cameron. "Why is my mail going to a rival city only to then come back?
The potential closure could not come at a worse time. Tulsa is experiencing a surge in economic growth, with $350 million in capital investment planned for new area development this year in the downtown region, said Chris Benge, senior vice president of government affairs, with Tulsa Metro Chamber.
Small businesses will benefit from new projects coming to the area, which include a new geothermal system that will provide heat and cooling in downtown Tulsa, said Benge. "With such heavy momentum on our side right now, we need to have our postal centers to support businesses," he said.
Brennan said it's too soon to speculate on the impact on mail delivery since the agency won't take any action on Tulsa's processing center until May 15.
Meanwhile, the USPS is expected to consolidate a few mail-sorting centers in West Virginia as well.
But not all small business owners are anxious about that.
"Consolidation is necessary," said Tom Crouser, president of Crouser & Associates, Inc., a small business consultancy in Charleston, W.Va.
"I am all for post offices," said Crouser, who also owns a successful 100-location national printing franchise. "I obviously use it for business purposes and to market my business."
But some of the post offices slated to go in the state are near others, he explained. "If you keep the ones with higher traffic open, it really won't make much of a difference."
Better to close some post offices so others can survive, he added. If the USPS goes bankrupt, that will be more "devastating to small businesses."