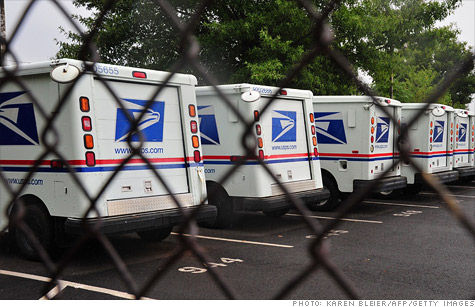 Congress turns its focus on efforts to save the U.S. Postal Service.
WASHINGTON (CNNMoney) -- Congress is looking this week at ways to save the struggling U.S. Postal Service.
The Senate could start debating a bipartisan bill that offers buyouts to senior employees, cuts worker compensation benefits and makes it possible to end Saturday service in two years.
On Tuesday, Postmaster General Patrick Donahoe will tell a House subcommittee that "doing nothing is not an option," according to prepared remarks that focus on the Postal Service's new five-year plan to cut costs and get back into the black.
"The Postal Service is at a crossroads. Our business model is broken," Donahoe said in prepared testimony. "If the Postal Service were a private company, we would be engaged in Chapter 11 bankruptcy proceedings."
The Senate was expected to vote to begin debate on a postal bill. Aides say the full House could start working on a bill in April or May.
Congressional action would throw a lifeline to the deeply indebted Postal Service, which is otherwise contemplating closures of hundreds of postal processing plants and post offices,, triggering job cuts in the tens of thousands nationwide.
Congress has until May 15, when a moratorium on closing postal facilities expires. It could easily take that long, aides say.
The recession, declining volume in the type of mail that most Americans use and a congressional mandate to prefund retirement health care benefits have put the service in a bind. The service reported a $5.1 billion loss for the year ended Sept. 30.
The U.S. Postal Service is, by law, an "independent establishment" of the executive branch. The agency doesn't normally use tax dollars for operations, but it has a $12.1 billion loan from Treasury, as of Jan. 31.
The bill being considered by the Senate passed a committee in November after months of work by lawmakers from both parties. The measure would tap most of an estimated $10.9 billion overpayment in the Federal Employees Retirement System to pay down postal service debt and use up to $2 billion for incentives to get some long-time employees to retire.
"While the situation facing the Postal Service is dire, it is not hopeless," said Sen. Tom Carper, a Delaware Democrat who was one of the authors of the Senate bill. "It is my hope that Congress and the (Obama) administration can come together on this plan in order to save the Postal Service before it's too late."
Among other things, the Senate bill would also give the postal service a new revenue stream by making it legal to ship beer, wine and liquor -- which competitors such as Fed Ex (FDX, Fortune 500) and UPS (UPS, Fortune 500) can already do. The agency would have to craft new rules to keep alcohol out of the hands of minors.
On the Senate side, expect close votes on expected amendments that would strip out controversial measures now in the bill, such as a move to cut Saturday service in two years, as well as cuts to workers compensation benefits among retirees.
In the House, Democrats and Republicans are expected to criticize the proposal to move employees off the federal health care plan to a new plan operated by the Postal Service. Donahoe, in his prepared remarks for a House Oversight subcommittee, says such a move would save $7 billion each year.
But lawmakers don't like it. Neither does one of the economists invited to rebut Donahoe's push for a new health care plan.
"It is neither necessary nor sensible to do anything remotely so drastic as dismantling the (existing health care plan) to achieve the savings it needs," said Walton Francis, an independent consultant and author CHECKBOOK's Guide To Health Plans For Federal Employees, in prepared remarks.