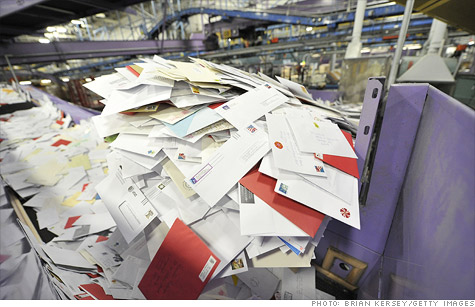 Congress is set to consider bills to reform the Postal Service, which has been mired in debt and threatens to close postal offices and plants.
WASHINGTON (CNNMoney) -- Congress is expected to finally start debating ways to save the struggling U.S. Postal Service.
As early as this week, the Senate could take up a bipartisan bill that offers buyouts to senior employees, cuts worker compensation benefits and makes it possible to end Saturday service in two years. The House could start work on a different postal bill in coming weeks.
Congressional action would throw a lifeline to the deeply indebted Postal Service, which wants to cut Saturday service, delay delivery of some mail, and close hundreds of postal processing plants and post offices, triggering tens of thousands of job cuts nationwide.
Congress has until May 15, when a moratorium on closing postal facilities expires. If Congress does nothing, Postmaster General Patrick Donahoe has made it clear he intends to start closing and consolidating 223 postal plants.
The recession, declining mail volume and a congressional mandate to prefund retirement health care benefits have put the service in a bind. It reported a $5.1 billion loss for the year ended Sept. 30.
Last month, the Senate failed to muster enough votes to start tackling the postal legislation. It was unclear on Monday whether Senate Majority Leader Harry Reid now has the votes to move forward, but congressional aides said he intended to try again in the next two weeks.
The unions oppose bills in the Senate and House, saying they fail to create a lasting business model for the Postal Service. The National Association of Letter Carriers chief Fredric V. Rolando told CNNMoney that the bills "dismantle" the Postal Service.
The bipartisan Senate bill passed a committee in November. The measure would tap most of an estimated $10.9 billion overpayment in the Federal Employees Retirement System to pay down postal service debt and use up to $2 billion on buy-out packages to entice long-time employees to retire.
Among other things, the Senate bill would give the postal service a new revenue stream by making it legal to ship beer, wine and liquor -- which competitors such as Fed Ex (FDX, Fortune 500) and UPS (UPS, Fortune 500) can already do. The agency would have to craft new rules to keep alcohol out of the hands of minors.
If the Senate starts debating the bill, analysts expect much wrangling over some of its controversial measures, such as the move to end Saturday service in two years and cuts to retirees' compensation benefits.
The U.S. Postal Service is, by law, an "independent establishment" of the executive branch. The agency doesn't normally use tax dollars for operations, but it has a $12 billion loan from Treasury, as of Feb. 29.
Last week, Congress' watchdog arm, the U.S. Government Accountability Office, released a report that confirmed what the Postal Service has been saying: It needs to trim down.
Sen. Tom Carper, a Delaware Democrat who helped craft the Senate's bill, said the GAO report confirmed what "we already knew." But he adds that individual lawmakers oppose closings in their own district.
"If Congress wants to require the Postal Service to maintain additional mail-processing facilities, we have to figure out a way to reduce costs elsewhere or raise revenues," Carper said.