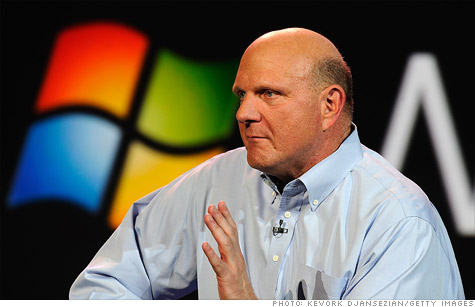 Microsoft CEO Steve Ballmer
NEW YORK (CNNMoney) -- Microsoft's sales growth for Xbox and Kinect slowed sharply last quarter, but other sectors like Windows helped the company post earnings that beat analysts' estimates.
Microsoft (MSFT, Fortune 500) pulled in earnings of 60 cents per share on sales of $17.4 billion for its fiscal third quarter, which ended March 31. Earnings dropped a penny per share from the same quarter last year, although that quarter included a $461 million tax benefit. Without that one-time gain, earnings per share rose 7% over the year.
Microsoft's sales for the quarter were $17.4 billion, up 6% from last year.
Most of Microsoft's businesses posted solid sales growth compared with last year: 14% for the server and tools division; 9% for the business sector, which includes Office; 6% for online services; and 4% for Windows.
Microsoft investor relations director Lisa Nelson called out the Windows sales, which grew to $4.6 billion, as an especially bright spot.
"We saw great demand from enterprises this quarter," Nelson told CNNMoney in an interview.
Microsoft's chief financial officer, Peter Klein, also stressed that on a post-earnings conference call with analysts. Part of the business sector boost was an improved PC sales market overall, he said.
But two recent products helped Microsoft's business division "actually slightly outgrow" the general PC growth, he said: Office 2010 and the brand-new Windows 8 operating system.
"Our product portfolio is stronger than it's ever been," Klein said.
But the gaming business, which has recently been a strong point for Microsoft, weakened compared to last year. Sales in that division fell 16%, to $1.6 billion.
Microsoft attributed the decline simply to "a soft gaming console market."
In advance of Microsoft's earnings call, Nelson declined to delve deeper into the reasons for that drop, deferring to Klein and other executives on the call. While the gaming drop came up in Microsoft's discussion with analysts, executives didn't elaborate on the specific reasons for the quarter's weakness.
Nelson did acknowledge, though, that the market "was softer than we've seen in past years" during the same quarter. While gaming sales were strong in October and November, they began to decline in December, she said -- a trend that continued through March.
But Microsoft's strength in other sectors has buoyed the stock: Shares are up 14% over the last six months. Even noticeable PC sales weakness didn't hurt Microsoft last quarter, when the company earned a record 78 cents a share on record sales of nearly $20.9 billion.
Correction: An earlier version of this story said Microsoft's sales declined compared to last year. Microsoft's sales for the quarter were $17.4 billion, up 6% from last year.