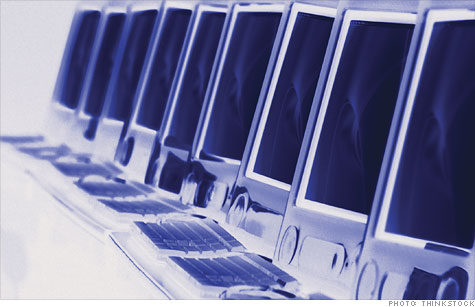 NEW YORK (CNNMoney) -- PC sales didn't have a happy holiday sales season, but you wouldn't know it from the strong earnings posted by Microsoft and Intel.
The PC is struggling -- last quarter, shipments fell 6% from the year-ago period, according to research firm Gartner -- as tablets and smartphones grab market share.
But both computing giants reported earnings that beat Wall Street estimates. They chalked up softness in PC sales not to obsolescence, but to a worldwide hard drive shortage caused by massive floods in Thailand in November.
The good news on earnings boosted shares of both companies early Friday. Microsoft's stock rose 2.6% in premarket trading, while shares of Intel edged up 0.7%.
Microsoft earned a record 78 cents per share on record sales of $20.89 billion for the second quarter of its fiscal year.
Despite the strong overall showing, Microsoft (MSFT, Fortune 500) felt the pain of the lackluster PC market in its Windows division. Its sales fell 6% over the year to $4.74 billion.
"It's difficult to say with any sort of certainty" whether PC sales will pick back up when the hard drive supply recovers, said Lisa Nelson, Microsoft's investor relations director. "But the market should benefit from it."
On a conference call after the earnings release, Microsoft executives said the hard drive shortage will affect sales at least through the current quarter.
The call also revealed that netbooks -- essentially small, low-powered laptops -- now represent just 2% of the PC market. A year ago, they comprised 8%.
Executives dodged most questions about the upcoming, tablet-optimized Windows 8. The company revealed at a trade show earlier this month that a beta version will be released in late February.
Strength in Microsoft's other sectors made up for PC weakness.
The Microsoft unit with the strongest sales remains the business software division, which includes Microsoft Office and other software. The sector accounted for $6.28 billion of the company's revenue, though it gained only 3% over the year.
Office 2010 has sold more than 200 million licenses in the 18 months since its launch.
Gaming systems were also a bright spot, as Microsoft's "entertainment and devices" sales jumped 15% over the year to $4.24 billion. To date, Microsoft has sold about 66 million Xbox 360 consoles and 18 million sensors for its motion-controlled Kinect system.
Nelson said Xbox now commands 46% of market share for gaming consoles.
But Microsoft said on the conference call that the overall console market "is softer than previously expected."
The "server and tools" area also did well, posting a sales increase of 11% to $4.77 billion. That's the seventh consecutive quarter of double-digit growth, Nelson said.
Intel beats the street: Intel beat Wall Street estimates with fourth-quarter earnings of 68 cents on sales of $13.9 billion -- in line with its own downgraded forecast.
Intel (INTC, Fortune 500) sharply cut its sales forecast last month because of the hard drive shortage. Left without that supply, PC makers scaled back their inventories -- which meant they were buying fewer semiconductors from Intel.
But sales at Intel's "PC client group" were strong, rising 17% over the year to $9 billion. Growth in emerging markets was the main driver.
CEO Paul Otellini cited ultrabooks as one of the company's biggest opportunities for growth in a press release. Ultrabooks are extremely light-weight notebook PCs that have long battery life and almost as much power as a full-sized laptop.
At the Consumer Electronics Show in Las Vegas earlier this month, Intel showcased several upcoming ultrabooks that will run on its "Ivy Bridge" 22-nanometer chips.
In other tech earnings news on Thursday, Google (GOOG, Fortune 500) announced profit and sales that rose from year-ago results but badly missed Wall Street's forecasts. IBM (IBM, Fortune 500) posted earnings that topped estimates.